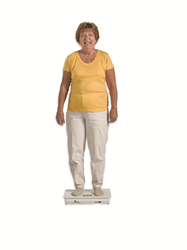 Shirley, New York (PRWEB) March 11, 2015
LivMD improves a wide variety of conditions, including balance and muscle health, circulation and posture. It also helps to reduce pain. The device can be used for stand-alone therapy or as part of a rehabilitation program. Because it is low intensity, it is useful for those who have brittle bones or problems with balance. Just 10 minutes a day is all that is required to receive the benefits from LivMD.
LivMD is for people that wish to remain active, or as an adjunct therapy for supporting musculoskeletal health in the elderly or infirm. Unlike traditional whole-body vibration that operates with acceleration of 10g, low intensity vibration is a safe, scientifically-proven biological signal that improves physiological and neuromuscular health by improving muscle control and condition, balance, circulation, posture and reduces pain – all of which contribute to increased mobility and reduced fall risk.
The technology of low-intensity vibration is ideal for those who find it difficult to exercise or for whom certain forms of exercise may be unsafe due to risk of fracture, falls, or joint damage, or for those struggling to incorporate ample exercise to maintain independence.
"We are excited to include the LivMD as part of our Mobility Enhancement devices," states Don Gronachan, Vice President Physical Medicine Sales. "It can be used for a wide variety of pathologies allowing therapists and facilities to increase their clinical value."
To learn more about the Biodex Physical Medicine devices, contact Biodex directly at
1-800-224-6339 (Int'l 631-924-9000), visit our website, http://www.biodex.com/rehab, or email us at info(at)biodex(dot)com.
About Biodex Medical Systems, Inc.
Biodex Medical Systems, Inc. manufactures and distributes medical devices for physical medicine, nuclear medicine and molecular and medical imaging. It also provides balance assessment for concussion management as well as a fall risk screening and conditioning program. The Biodex commitment to innovative excellence spans more than 60 years. Our customer-driven support is why leading medical facilities around the globe call Biodex first.