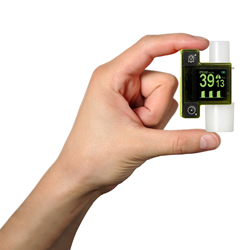 Louisville, Ky. (PRWEB) March 10, 2015
DRE Veterinary — a new and professionally refurbished equipment supplier — is pleased to announce it will be returning to the 2015 American Animal Hospital Association Annual Conference March 12-14 in Tampa, Fla.
DRE Equipment Experts Brent Montgomery and Alex Crow will be showcasing a full selection of veterinary equipment in booth 1236, including the EMMA II Capnograph.
The EMMA II is a small, portable capnograph that delivers immediate waveform readings. Its continuous capnogram function helps veterinary caregivers to confirm correct endotracheal tube placement and assess the effectiveness of CPR and guide ventilation.
Capnography is becoming increasingly preferred by many veterinary organizations, and the EMMA II is a simple, cost-effective way for veterinarians to incorporate EtCO2 monitoring into their workflows. The EMMA II is easily programmable and flexible for a wide range of care settings, including pre-hospital, emergency medicine, operating rooms, intensive care units and even long-term acute care.
The EMMA II can be used with the DRE Waveline VS, a lightweight monitor that comes standard with three-lead and five-lead ECG, RESP, SpO2, NIBP and temperature settings. The monitor is highly portable with a high-resolution color LCD screen, making transport and setup quick and easy.
Montgomery and Crowe will also be featuring these DRE customer favorites at AAHA 2015:

DRE Vision LED Surgery Lights
DRE Teres V-400 High Speed Veterinary Dental Air Unit
Pannomed O.P. Veterinary Surgical Table
Connect with Brent Montgomery and Alex Crowe on LinkedIn, and meet them in Tampa in booth 1236. For more information on upcoming meetings and trade shows, visit the Medical Trade Shows and Conventions Calendar Schedule — a continuously updated, free resource.
About DRE Veterinary
DRE Veterinary provides a combination of new and professionally refurbished used medical equipment to veterinarians, veterinary surgery centers, research facilities, universities and technical schools. For more than 25 years, DRE Veterinary has worked with many of North America's top veterinary facilities and organizations, providing products and services that save time and money, and allow veterinary surgeons to do the things they do best. DRE Veterinary is located in Louisville, Ky.