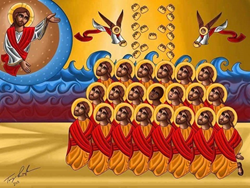 Our aim is to ensure that the orphans get the assistance they need in the long run, even after the massacre in Libya has faded from the headlines.
(PRWEB) March 11, 2015
The St. Charles Institute and Coptic Orphans today announced a joint crowdfunding effort to help meet the educational needs of the children left fatherless when 21 Coptic Christians from Egypt were martyred in Libya on February 15.
The project, entitled Support the Orphans of Christian Martyrs in Libya and hosted at the website Indiegogo.com, seeks to raise a total of $36,000 to help the fatherless children stay in school. Working with and through the local church in Egypt, Coptic Orphans will use the funds raised to provide the children with specially trained advocates and mentors to ensure they do not drop out of school for a lack of income or encouragement. These advocates will help the children navigate through the many social challenges they now face as "fatherless orphans."
Donations to the project will also ensure that each family's basic needs are met, like food, clothing, and shelter, and provide the children with access to literacy tutoring, life-skills workshops, and school supplies. The campaign is set to conclude on April 5.
"The 21 martyrs in Libya went to their death crying out the name of Jesus. They were killed for being 'people of the cross,'" said Stephen Kopalchick, president of The St. Charles Institute. "While the families left behind face the significant obstacle of having lost their fathers, the least we can do is ensure that the children have a chance to heal, grow, secure an education, and achieve their fullest potential despite this great tragedy. We believe this fundraiser presents all of us with a tremendous opportunity to show our love for these children and overcome evil with good."
"The children of the 21 Copts martyred in Libya face an uphill battle to survive and succeed, because to be fatherless in Egypt means facing grinding poverty without a family breadwinner," said Nermien Riad, founder and executive director of Coptic Orphans.
"We've spent the last 25 years preparing to meet the long-term needs of orphans in Egypt," Riad said. "Our aim is to ensure that the orphans get the assistance they need in the long run, even after the massacre in Libya has faded from the headlines."
"These children need our support to ensure that their future is secured," Riad said. "The funds raised through this crowdfunding campaign will be used to pair each child with a specially trained advocate who will connect them with the resources they need, whether it's basic necessities such as food and shelter, or educational support such as tutoring, school supplies, and tuition."
Coptic Orphans is an award-winning international Christian development organization that works through a grassroots volunteer network to unlock the God-given potential of fatherless children in their own homes and families. Coptic Orphans seeks to equip children to help them break the cycle of poverty and become change-makers in their own communities. Since 1988, Coptic Orphans has touched the lives of over 30,000 children in underserved villages and urban areas throughout Egypt, from Alexandria to Aswan.
The St. Charles Institute, founded in 2013, provides information and analysis on anti-Christian violence and persecution; seeks to promote religious freedom and human rights where persecution exists; and works to catalyze a movement to bring hope and justice for victims of religious persecution.