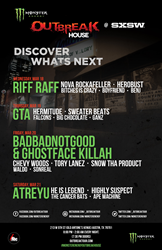 The shows will feature select SXSW breakout stars in addition to Monster Energy Outbreak Tour alums.
Austin, TX (PRWEB) March 12, 2015
With the commencement of SXSW 2015, Monster Energy and Idol Roc Entertainment are excited to announce that they will be launching the Monster Energy Outbreak House @ SXSW. The Monster Energy Outbreak House @ SXSW will serve as a microcosm of the acclaimed Monster Energy Outbreak Tour, bundled into a 4 day event. Each show will represent a specific Monster Energy Outbreak Tour genre, which will include a College, EDM, Hip - Hop, and Rock night respectively. The shows will feature select SXSW breakout stars in addition to Monster Energy Outbreak Tour alums. The House @ SXSW will run from Wednesday March 18, 2015 to Saturday March 21st, 2015 at 213 W 5th ST. Austin, TX 78701. Doors open at 7:30 pm each night, with each show running from 8:00 pm to 2:00 am.
"We're excited to launch another extension of the Monster Energy Outbreak Brand and to be bringing this concept to the largest recording industry conference and festival on earth," tour producer Steve Glazer said of the launch. "We are looking forward to seeing all of these artists at such an early stage in their careers, with the intention of discovering talent for future Monster Energy Outbreak Tours, all the while providing the artists the opportunity to showcase their talents to music industry influencers and thousands of members of the press."
About Outbreak Tour:
Launched in February 2011 as a music and experiential branded tour providing aspirational fans with the opportunity to discover what's next, the Outbreak Tour pairs emerging artists with fan-friendly ticket prices at premium venues. In 2015 the Outbreak Tour currently has 6 different genre tours under its umbrella; Hip Hop, College, EDM, Rock, Comedy, and this years newest addition, Country. Four years since its inception, the Outbreak Tour is viewed as the ultimate tastemaker, recognized for helping provide a major platform for some of the music industry's biggest breakthrough artists, such as Iggy Azalea, Kendrick Lamar, Macklemore and Ryan Lewis, Asking Alexandria, Chainsmokers, Carnage and current Hip Hop headliner Logic. Looking ahead the Outbreak Tour will continue its evolution of this concept by diversifying into various genres and sub-cultures beyond music to maintain providing aspirational fans the opportunity to discover what's next. http://www.outbreaktour.com | http://www.facebook.com/OutbreakTour
About Monster Energy:
At Monster Energy, we believe it is all about raising the bar. When Tech N9ne or Yelawolf hit the stage in front of thousands of fans or Rob Dyrdek sets out to break the next Guinness world record or Meek Mill is popping wheelies, we are there to support our family of brand ambassadors. At Monster Energy, we are not big on traditional means of advertising. Instead, we look to grab ahold of our audiences in ways that are impactful, engaging and authentic. No matter the scene, we align ourselves with the right artists, athletes, events, celebrities and the right heroes. And by consistently providing these groundbreaking opportunities, we are the scene. http://www.MonsterEnergy.com
For more information on the Monster Energy Outbreak House @ SXSW and/or VIP tickets, please contact Casey Garner at casey(at)idolroc(dot)com (510) 333 - 7353.