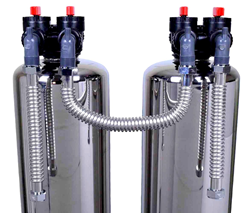 Santa Cruz, CA (PRWEB) March 11, 2015
Drought-stricken California, which just had its driest January ever recorded, smashed another regrettable record last month: the hottest February. Last month, parts of California received just 47% of average rain needed for this time of year. The snowpack is just 12% of its long term average.
According to the U.S. Drought Monitor parts of the western and some mid-west states are in an extreme drought period, and water rationing and conservation efforts are widespread.
Traditional salt-based water softeners using ion-exchange resin and salt have been used for years to eliminate problems with hard water for homes and businesses. These ion exchange resins remove calcium and magnesium ions from water, replacing the calcium ions with sodium ions. Softening units require and use large amounts of water for back-washing and use brine "salt water" for regeneration. Water for back-washing and the salt ($200 to $400 per year to purchase salt) are an added expense, and a problem for areas where water is restricted.
The increased sodium and chloride content in municipal waste water streams is a big concern to water utilities looking for ways to treat and re-use waste water. Alternative technologies have been sought to replace these traditional water softeners.
The new Clean Water Systems Scale Stopper systems use a technology called Template Assisted Crystallization, ("TAC") which treats minerals in water without the use of salt or chemicals. After flowing through the Scale-Stopper TAC device, calcium minerals no longer cause scale problems.
In the Scale Stopper systems, atomic level templates on the surface of small specially treated polymer spheres transform dissolved calcium carbonate into a crystalline form. The crystals are relatively insoluble, effectively isolating the CaCO3 from the water chemistry and anything the water contacts. The treated water coming out also removes existing scale in pipes.
These new systems are now saving homeowners and businesses such as laundries, hotels and other businesses hundreds of dollars a year in reduced water use and by eliminating the need to buy salt.
Gerry Bulfin President and CEO of Clean Water Systems & Stores Inc said "we have tested many alternative technologies to traditional salt-using water softeners over the years and the Scale Stopper TAC technology is by far the most effective at reducing scale build-up in pipes, fixtures and appliances. Independent testing done by the Water Re-Use Foundation, and also at Arizona State University supported our own results we have seen with this system".
Clean Water Systems & Stores specializes in water treatment for contaminated ground and surface waters, and has over 17,000 customers in more than 40 countries. The company provides custom easy-to-install water treatment systems and products in a large variety of different types and configurations including systems for reducing scale and minerals, removing iron, manganese, sand, odors, bacteria, turbidity and sediment. The company also designs and supplies custom commercial and industrial reverse osmosis and ultra-filtration systems that are manufactured in the U.S. for bottling water plants and commercial applications.