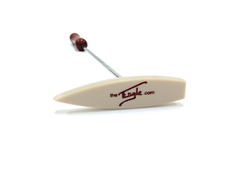 We at Engler Innovations plan to connect with some of this emerging talent while we have them here in the states.
(PRWEB) March 11, 2015
Do not go to SouthBy without expecting to get a little culture. We'll be hearing from acts all around the world. Given that The Engle, the innovative new guitar hammer, has been used worldwide by guitar aficionados, Engler Innovations plans to connect with some of this emerging talent while we have them here in the states.
Diwan Saz is a nine-piece wall of sound. As a group consisting of Jewish, Christian, and Muslim members, their ultimate goal is to promote peace. They'll certainly be keeping the peace at SXSW with their amalgamation of Hebrew and Arab music, which manifests itself as a combination of folk and classical. The band, whose leader is musical director Yohai Barak, has played festivals throughout Europe, Israel, India, the U.S., and Canada. As for Austin, they'll be at the SXSW International Day Stage on 3/18, as well as the WOMEX Stage on 3/19.
While others are fusing genres, one band claims to have invented a whole new genre. Grammy nominated band Huichol Musical combines Huichol and Mestizo music to create an unprecedented sound. There's a reason these guys have received a key to Oklahoma City, and you should come find out why when they take on Russian House on 3/19.
However, not many of the acts Engler Innovations plan on interviewing this March bring together players from multiple countries, let alone three. El General Paz & La Triple Fronteira consists of members from Argentina, Uruguay, and Brazil. Bringing a unique fusion of Afro-Latin based rhythm with funk-rock, the band is led by popular guitarist and producer Anel Paz. See them at Russian House, 3/20.
Next we have Khumariyaan, who describes themselves as an instrumental jam quartet. We bet you've never seen the Pashtoon rubab, the zerbaghali drum, and the pushtoon sitar in a jam band! Look forward to seeing the jams come to life on 3/20 at Russian House.
Marcelo Fruet & Os Cozinheiros is led by renowned performer and studio powerhouse Marcelo Fruet. The immensely talented group of performers has won numerous awards and were Latin Grammy-nominated. Check out why at Esther's Follies on 3/21.
And there you have it! Five world artists that the creators of "The Engle" plan to learn more about this March. So should you.