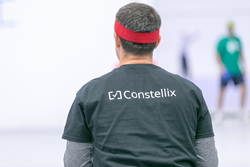 Constellix is proud to support our community, and challenges other service providers to do the same.
(PRWEB) March 10, 2015
Constellix, a locally owned and operated elite IT enterprise monitoring business, is working to find a cure for diabetes – one dodge ball at a time.
Constellix is a title sponsor for 10th Annual Dodging Diabetes charity dodge ball tournament slated for March 22 in Laurel MD. The company's ultimate goal is to help support the Juvenile Diabetes Research Foundation and the Joslin Diabetes Center, beneficiaries of the proceeds from the tournament.
"Constellix is proud to support our community, and challenges other service providers to do the same," said Steven Job, president of DNS Made Easy, the creators of Constellix. "If we all work together, we can find a way to halt the effects of diabetes or cure the disease altogether."
Last year, Team Constellix helped round out a 30-team competition where participants dipped, dove, ducked and dodged their way through the weekend. Event planners hope to see the same level of play this year.
The Dodging Diabetes charity, founded by Anna Tiedeman Irwin and Elizabeth Kramer Dugan in 2005, raises money to defeat diabetes and educate people about what it really means to live with the disease. Through annual dodge ball tournaments, the group has netted more than $150,000 for diabetes research. The two friends have brothers who live with Type 1 diabetes and both participate in the tournament.
"We started Dodging Diabetes because we know firsthand what a diagnosis of diabetes really means for entire families," said president and co-founder Anna Tiedeman Irwin. "We are so grateful for sponsors like Constellix who help us get one step closer to knocking out diabetes for good."
Last year's even raised $25,000 and this year event staff are hoping to top $35,000. This all-volunteer and sponsor-covered event means 100 percent of the proceeds go toward diabetes research.
More than 25 million people in the U.S. have diabetes. Of that 25 million, about three million people in America have Type 1, or juvenile diabetes. Treatment has gotten better and there are many promising discoveries on the horizon but the fact is - right now - diabetes is a life-long, incurable disease.
Type 1 diabetes occurs when the body's immune system destroys the insulin-producing cells of the pancreas. Normally, the body's immune system fights off foreign invaders like viruses or bacteria. For unknown reasons, in people with type 1 diabetes, the immune system attacks various cells in the body. This results in a complete deficiency of the insulin hormone.
"The effects of this disease can be debilitating," said Job, who has a son with type 1 diabetes. "It is an honor for Constellix to support diabetes research."
Constellix, which went live to the public in 2014 is already seeing above-average performance and getting outstanding feedback from users. The elite enterprise monitoring system has already reached more than 25 million daily checks.
"Reaching 25 million daily checks shows the increased trust users are placing in the Constellix monitoring suite of services," Job said. "The demand for an enterprise monitoring system is evident and we have met these needs with Constellix Sonar."
The newly released innovative enterprise monitoring service was created by the founders of DNS Made Easy and is a suite of traffic management tools designed to provide a detailed health analysis of server and network infrastructure unlike any product available in the industry today. Constellix has integrated tools that offer a range of advanced features including performance optimization, troubleshooting, real-time logging, and alert management.
About DNS Made Easy and Constellix
Constellix is a subsidiary of Tiggee LLC, the creators the DNS Made Easy, and the world leader in providing global IP Anycast enterprise DNS services. DNS Made Easy implemented the industry's first triple independent Anycast cloud architecture for maximum DNS speed and DNS redundancy. DNS Made Easy builds on a proud history of uptime and is the preferred DNS hosting choice for most major brands, especially companies that compare price and performance of enterprise IP Anycast alternatives. Constellix Sonar, one portion of the Constellix suite of traffic management tools.
About Dodging Diabetes
Anna Tiedeman Irwin and Elizabeth Kramer Dugan founded the Dodging Diabetes® charity in 2005 to raise money and awareness to defeat diabetes for good. Both Anna and Elizabeth have brothers who live with Type I diabetes. Dodging Diabetes is a Bethesda-based 501c3 organization that has raised more than $150,000 for JDRF and the Joslin Diabetes Center through its annual charity dodgeball tournaments. Website: http://www.dodgingdiabetes.org. Follow us on Twitter @DodgingDiabetes.