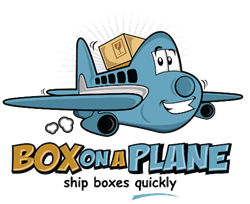 Atlanta, GA (PRWEB) March 11, 2015
BoxOnaPlane.com is a revolutionary new delivery service provider that specializes in facilitating expedited parcel shipments. The announcement comes in an effort to expand exposure to online customers in need of expedited shipping and market its new anticipated ship-by-air service. BoxOnaPlane.com is to be the most superior and cost-effective ship by air solution for small package and multi-box shipping services throughout the US.
BoxOnAPlane.com, a division of 1-800Courier, is a new Plane Delivery company that ships a wide range of packages cross country the same day. From urgent document deliveries and small packages, to passports and multiple box shipments, BoxOnaPlane.com utilizes its dedicated couriers to pick up customer packages, consult airline schedules, and then, ships their items Next Flight Out to the requested destination.
It is the best, new alternative for urgent same-day delivery needs cross country, even from state-to-state shipping. Damaged or lost, time-sensitive packages are sometimes incurred by customers via big carriers such as FedEx and UPS. BoxOnaPlane.com allows customers to now have a ship by air delivery option for replacements for those types of lost packages to still arrive at their destination on time. For even faster service, upon flight arrival, customers can choose to pick up their packages from the airport; otherwise, a dedicated courier will retrieve the items and deliver them.
It is not only fast, but also a cost-effective, reliable and on-time nationwide package delivery service for miscellaneous shipping, even for cross country online purchases such as eBay. With a national footprint, leading ordering and tracking technology, BoxOnaPlane.com is a trusted courier delivery partner for on-demand and volume shipments. Visit http://www.boxonaplane.com or call 1-800-268-7437 for shipment quotes or questions regarding any cross country shipping needs.
BoxOnaPlane.com is owned and operated by 1-800Courier, a premier same-day courier offering same-day transportation and distribution services. Whatever your business need is, whether one parcel or many, 1-800Courier ships quickly. 1-800 Courier has 15 years of experience facilitating transportation shipments. The courier provides same-day delivery successfully for over 1,500 clients, including Fortune 500 companies nationwide.