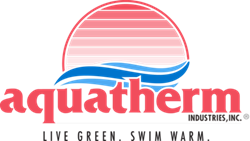 San Diego, CA (PRWEB) March 10, 2015
Last month at the annual Aquatherm Industries Master Dealer & Distributor Kick-Off Meeting, top Dealers and salesmen from around the country were recognized for their 2014 sales efforts.
The manufacturer awards outstanding sales achievements, and gives an award to the top salesmen and Dealers of each of its three flagship brands of solar pool heaters: Solar Industries, Ecosun, and Ultrasun. Customer Satisfaction Awards were also presented to Dealers that provided a remarkable customer experience last year.
Awards for Top Solar Industries Master Dealer and Salesman were given to Stilwell Solar of Estero, FL and Jason Stringham of Solartech International in San Diego, CA. Bill and Trina Long, owners of Stilwell, have been a vital part of the Aquatherm Dealer Network for many years, and truly dominate the southwest Florida market. Jason Stringham, owner of Solartech International, has made a tremendous impact in southern California in his first two years as a Master Dealer.
Both the Top Ecosun Master Dealer and Salesman Award went to Brandon Chase, owner of SunChaser, Inc. in Lakeside, CA. Brandon has been an Ecosun Master Dealer in San Diego County since 2003, and has consistently topped the sales charts each year through quality installations and relationships with his customers and pool industry partners.
Aquatherm's newest product, Ultrasun, saw its first year of full production in 2014, after years of field-testing with a select group of Master Dealers. Performance Solar, of Escondido, CA, took home the Top Ultrasun Master Dealer Award. Dennis Esposito, owner of Performance Solar, was a long-time Ecosun Master Dealer before switching to a competitive manufacturer's product for a number of years. It was the Ultrasun product that inevitably sealed the deal for Dennis and Performance to once again sell an Aquatherm product in southern California. Top Ultrasun Salesman Bill Park, owner of Central Florida Solar in Altamonte Springs, FL, also made the switch to Ultrasun last year, having been an Ecosun Master Dealer in central Florida for many years.
For the 12th year in a row, Mark Naylor of Mark Naylor Solar Specialists in San DIego took home the Top Aquatherm Salesman Award, which recognizes sales of all Aquatherm brands combined.
About Aquatherm:
An ISO 9001:2008 registered company, Aquatherm Industries, Inc. is the largest U.S. manufacturer of low-temperature, unglazed polymer solar collectors – primarily used for residential and commercial swimming pool heating as well as domestic hot water and process pre-heat applications.
Within the company's "pellets to panels" approach, Aquatherm's extrusion, welding, and injection molding processes have been awarded four U.S. and two International Patents for its technology. In addition, Aquatherm's collectors were the first NSF-50 listed solar collectors in the world. Aquatherm distributors currently serve Australia, New Zealand, Hawaii, all of North, Central, and South America, France, Egypt, and Jordan.