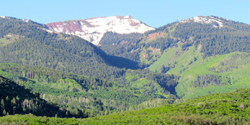 ...at this price the property will not last long.
Denver, CO (PRWEB) March 11, 2015
Mirr Ranch Group is pleased to announce a 37% price reduction on the historic 1,328-acre Capitol Creek Ranch, one of the largest ranches for sale in the Aspen area. Now listed at $17 million, this luxury real estate property offers stunning scenery with end-of-the-road privacy. The property sits in a protected valley adjoining Haystack Mountain and the Snowmass/Maroon Bells Wilderness Area, and it's just 30 minutes from Aspen. This working ranch offers 3 miles of Capitol Creek, rolling hills and irrigated meadows surrounded by aspens and dense forests.
For over 50 years the same family has stewarded and protected this ranch, raising livestock, cutting hay and battling against the creation of what could have been the valley's largest ski area on adjoining federal land. Now protected with a conservation easement permitting 5 additional home sites, the ranch is a blank canvas for the next visionary steward.
Martha Cochran of the Aspen Valley Land Trust says, "Capitol Creek Ranch is one of the last great ranches in Pitkin County. It's tucked among the Maroon Bells-Snowmass Wilderness area, two other conserved ranches and St. Benedict's Monastery, giving it a rare feeling of wilderness. Capitol Creek Ranch is big and unspoiled, and the varied elevations and three miles of creek frontage make it a haven for wildlife – from deer and elk to small mammals and songbirds."
Real estate values rebounded nicely in 2014 with sales in Pitkin County exceeding $1.5 billion, an increase of over 22.5% over 2013. According to listing ranch broker Jeff Hubbard, "It is rare to find a ranch of this size and all of the amenities including river frontage, water rights, hay fields and adjacency to National Forest this close to Aspen at this price point. There are simply no substitutes in the entire Aspen/Roaring Fork Valley. This scarcity factor strengthens the long-term investment outlook for Capitol Creek, and is difficult to overemphasize."
The owners retained Mirr Ranch Group and the price point, in line with the property's unique value, was determined. "We expect that at this price the property will not last long," says Hubbard.
For media inquiries, arrange for an interview, or get an expert quote, please contact Haley Mirr at (303) 623-4545 ext. 4. Photography available upon request.
About Mirr Ranch Group
Mirr Ranch Group offers marketing and buyer acquisition services for fine sporting properties and legacy ranches for sale throughout the American West. Brokers for the company are known for their expertise in sporting, public lands and conservation in addition to their unsurpassed knowledge of ranch transactions.
For more information, contact:
Mirr Ranch Group
915 South Pearl Street
Denver, CO 80209
(303) 623-4545
http://www.MirrRanchGroup.com