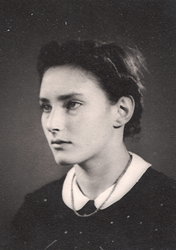 New York, NY (PRWEB) March 12, 2015
Seventy years after her death in the Bergen-Belsen concentration camp, join The Anne Frank Center USA for a very special tribute to Anne Frank featuring Monica Smith, her second cousin. In a rare appearance, Mrs. Smith will share her memories of the young writer and discuss her own experiences during the war.
Born six years before Anne in Stuttgart, Mrs. Smith was sent on a Kindertransport to Holland, where she was interned in various places. While in Amsterdam, she stayed with the Franks for several days. Otto and Anne also visited her multiple times at an orphanage in the city.
"She was a writer," recalled Mrs. Smith in a recent New York Times profile. "She would bring me peanuts. We were not choosy in those days." The elder cousin left Amsterdam days before the Germans invaded. Reunited with her parents, she later immigrated to the United States with them. She now lives in Manhattan and will be accompanied at the event by her daughter Nicole Smith-Brody and grand-daughter Sophie Smith-Brody.
Following Mrs. Smith's remarks, a screening of excerpts from documentary films about Anne Frank will be shown.
The event is part of The Anne Frank Center USA's "Helpers, Heroes, and Liberators" season commemorating the 70th anniversary of the end of World War II in Europe. For more information on this and other events, please visit: http://annefrank.com/helpers-heroes-and-liberators/
The event will take place at:
The Anne Frank Center USA
44 Park Place (between Church and West Broadway)
New York, NY 10007
Saturday, March 21 from 1:30-3:00
Adults $8; Students and Seniors $5
FREE for Holocaust survivors
Space limited. Reservations Recommended. To purchase tickets, please visit: http://www.brownpapertickets.com/event/1348436
About The Anne Frank Center USA
The Anne Frank Center USA, a partner organization of the Anne Frank House, uses the diary and spirit of Anne Frank as unique tools to advance her legacy, to educate young people and communities about the consequences of intolerance, racism and discrimination, and to inspire the next generation to build a world based on mutual respect.