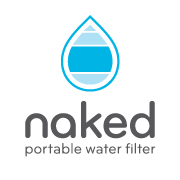 Victor W. Hwang, Liquidity's CEO, stated, "We are proud to announce the world's most powerful water filter ever for personal, portable use. It enables anyone to make their own healthy water anywhere, anytime."
Alameda, CA (PRWEB) March 12, 2015
Liquidity, a Silicon Valley startup, provided an early preview today of its forthcoming new product that aims to make safe, germ-free water readily available to millions of consumers everywhere.
Victor W. Hwang, Liquidity's CEO, stated, "We are proud to announce the world's most powerful water filter ever for personal, portable use. It enables anyone to make their own healthy water anywhere, anytime."
Liquidity is focused on helping solve the global health crisis caused by microbe-contaminated drinking water by providing practical, affordable water purification products. The revolutionary nanotechnology that powers its products is a result of more than 15 years of R&D at Stony Brook University and Liquidity. Naked Filter, a portable water filtration bottle, is Liquidity's first mainstream consumer product and the first product to offer an electro-spun, nano-fiber membrane technology that provides pharmaceutical-grade water filtration.
Naked Filter turns bacteria-laden water into 99.9999% percent germ-free, naked water. Using Naked Filter, people can access fresh water from anywhere: a creek, a pond, a faucet when traveling, a public drinking fountain, or much worse. Naked Filter acts like a colander, physically removing disease-causing bacteria and protozoan cysts such as E. coli, Salmonella, Cholera and Giardia as the water flows through it. Most portable water bottles do not have any filter. Some popular water bottle brands use a carbon filter to reduce chlorine, thus improving taste and odor, but failing to remove germs. Other bottles require a huge amount of pressure to use, or can fail without consumers realizing it.
Consumers can now have peace of mind that they are drinking clean, healthy water in an easy-to-use portable water bottle format. Water flows so quickly through the filter that users will notice little difference between a standard water bottle and Naked Filter. This combination of filter efficacy and ease-of-use sets a new standard in the consumer water space.
How it works
Simply fill the bottle from any non-salt water source, screw on the cap, and drink. The water is instantly filtered as you drink. Naked Filter does not require any waiting, nor harmful chemicals, electricity, maintenance, strong pressure, or hand pumps. Watch a video about Naked Filter: http://youtu.be/BqSnPkmZc0I
Benefits of Naked Filter
Naked Filter has several innovative features:

Highly Effective – Naked Filter lets fewer than 1 in a million bacteria pass through.
Safe-throughout-life – Naked Filter is good to the last drop. It's equally effective the last time you use it, as it is the first time you use it. Once Naked Filter reaches its capacity, the filter blocks up and water stops flowing, alerting users that it's time to replace the filter, delivering true peace of mind about the water quality. This safe-throughout-life performance distinguishes Naked Filter from some newer portable water bottle filters that claim to remove bacteria. These filters rely on "charged-based technology" which is not a physical barrier to bacteria. These filters eventually fail, and do so without any notice to the user, who may inadvertently continue consuming unfiltered water from the bottle.
BPA-free –Naked Filter is BPA free.
Meets or exceeds EPA requirements – Naked Filter's removal level meets the U.S. EPA's (Environmental Protection Agency) requirements for bacteria removal and twice exceeds the requirements for U.S. EPA and NSF 53 cyst reduction.
Victor W. Hwang added, "After years of hard work by our dedicated team, Naked Filter is the first realization of Liquidity's vision to make clean, healthy water readily available to every body on the planet. We plan to realize our vision -- one water bottle at a time. We're thrilled about the imminent arrival of Naked Filter, which uses our technology to provide clean, naked water to anyone, anywhere in an easy-to-use portable water bottle."
Kickstarter Project Plans
Plans are also underway for Naked Filter to launch via a Kickstarter campaign. The goal of the Kickstarter campaign will be to fund the remaining steps needed to launch the product for mainstream consumers. By supporting the campaign, individuals will also help Liquidity achieve its vision of distributing water purification products globally, with the goal of making a serious impact on a major global health issue. Shipments of Naked Filter will begin this summer, but the first Kickstarter supporters can receive early-bird access to the product. Interested parties can sign up here for advance notice about the Kickstarter campaign http://nakedfilter.com.
Pricing
Pricing has not been finalized but will be announced with the commencement of the Kickstarter campaign. Naked Filter will be competitively priced compared to existing water bottle filters.
About Liquidity
Liquidity is a Silicon Valley startup manufacturing breakthrough water purification products based on revolutionary membrane technology. For several years, the company has been developing a portfolio of breakthrough technologies for purifying water, including Liquidity's electro-spun, bacteria-retentive nanofiber membrane. The company's investors include GSR Ventures, Capricorn Investment Group, and T2 Venture Creation. Liquidity is based in Alameda, CA.
# # #
Editor's Note: Artwork is Available upon Request
Press Contacts:
Carmen Hughes
Ignite PR
650.576.6444
Carmen(at)ignitepr(dot)com