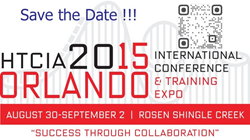 Quality is unmatched in the industry
Roseville, CA (PRWEB) March 13, 2015
The High Technology Crime Investigation Association (HTCIA) announces the end of Early Bird registration this April 1 for the 29th Annual International Conference and Training Expo. As usual, classes and presentations will be geared towards Chief Information Officers as well as individuals involved in cyber investigations and intrusions. HTCIA is also pleased to announce SANS instructor Alissa Torres, speaking on Windows Internals, and Ben Lemere, CEO and co-founder of Berla Corporation, speaking on vehicle forensics, have agreed to present at this years conference. HTCIA can also confirm a CRC challenge sponsored by Symantec and the Lockpick Village.
Peter Morin, HTCIA 2nd Vice President and Conference Chair, announced the impending expiration stating, "As a non-profit organization, HTCIA strives to provide superior training at a highly competitive price that is both suitable and necessary for Cyber professionals. Our past attendees universally agree that the quality of our presenters and the classes offered to our attendees are unmatched in the industry. Having this year's conference starting on August 30, 2015, at the Rosen Shingle Creek Resort in beautiful Orlando, Florida truly enhances the value ".
The HTCIA Early Bird rate for those interested in attending the International Conference & Training Expo means registrants applying to the conference need only pay $395 (members) and $595 for non-members until April 1st. After April 1st, the rate will increase.
For more information on registration for the event and non-member or student options please visit the HTCIA Conference Registration page: htciaconference.org. For additional information about this Conference, please visit the event site or contact Peter Morin at info(at)htciaconference(dot)org. For information concerning sponsorships or media coverage opportunities please contact Carol Hutchings at carol(at)htcia(dot)org or by phone at (916) 408-1751.
About HTCIA
HTCIA is a 501(c)3 non-profit professional organization founded over 29 years ago for the purpose of educating individuals involved with high technology investigations.
HTCIA continues to solidify its position as the leader in professional organizations devoted to the prevention, investigation and prosecution of crimes involving advanced technologies.
Contact:

General event inquiries – info(at)htciaconference(dot)org
Sponsorship inquiries – sponsorship(at)htciaconference(dot)org
Speaker inquiries – speakers(at)htciaconference(dot)org