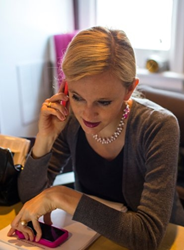 (PRWEB) March 11, 2015
In an interview in the current edition of Freedom Magazine, Andrea Powell, co-founder and executive director of FAIR Girls, describes an appalling social problem of which most Americans are unaware—that slavery is a thriving business in America, with more than 100,000 American girls and boys at risk of being sold into sex trafficking every year and 13 being the average age of entry into a life of commercial sexual exploitation in the United States.
FAIR Girls (Free, Aware, Inspired, Restored), is a Washington, D.C.-based nonprofit that assists survivors of human trafficking through education and empowerment, helping find homes for young victims of human trafficking and assisting them to pursue careers.
Powell and her team helps young victims of human trafficking rebuild their lives and future while raising awareness by training hundreds of law enforcement personnel, social workers and others in how to identify and assist victims of sex and forced labor trafficking. She is also an adjunct professor at the Elliot School of International Affairs at George Washington University.
Freedom Magazine is dedicated to advancing awareness and reform of human rights around the world and committed to accurate and accountable reporting.
Freedom is the voice of the Church of Scientology and reflects its stance that responsible journalism and the free flow of information are the lifeblood of all great societies.
Published since 1968, Freedom addresses issues, not politics. It seeks out and illuminates solutions to society's problems. Freedom proudly serves as a media watchdog, protecting the exchange of free ideas on which democracy relies.
Freedom further spotlights the Church of Scientology-sponsored human rights, social betterment and volunteer works, thereby advancing its purpose of safeguarding and promoting the rights of all.