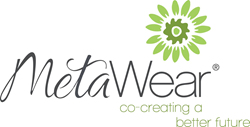 MetaWear is on its way to revolutionizing the USA textile industry one GOTS-certified organic T-shirt at a time. - Marci Zaroff.
Fairfax, VA (PRWEB) March 12, 2015
Close to our country's capital, MetaWear has just launched the nation's first solar and geothermal-powered operation providing cutting, sewing, dyeing, and screen-printing certified organic cotton T-shirts. This cutting-edge sustainable style manufacturer — which uses seaweed-based inks with no toxic inputs, and pays its staff a livable wage — was recently certified to the world's platinum standard for the processing of organic textiles – the Global Organic Textile Standard (GOTS). MetaWear is the first and only US-based GOTS factory of its kind.
GOTS, the textile industry's counterpart to the US Department of Agriculture's organic food standard, covers the processing, manufacturing, packaging, labeling, trading, and distribution of all textiles made from at least 70 percent certified organic fiber. As with organic food standards, a textile product carrying the GOTS 'organic' seal must contain a minimum of 95 percent certified organic fibers, while a product with the 'made with organic' label must contain a minimum of 70 percent certified organic fiber. GOTS-certified textiles are free of pesticides, GMOs, formaldehyde, chlorine bleaches, heavy metals, and other chemicals detrimental to humans and the environment, but typically used in conventional cotton t-shirts and textiles.
"MetaWear is extremely proud to be paving the way for today's textile industry here in the US. We adhere to the most stringent global processing standards, and offer earth-conscious, socially responsible, and flawlessly-fitting screen-printed apparel — perfect for promoting companies' brands and messages," states Marci Zaroff, ECOfashion pioneer and MetaWear Co-Founder and President.
MetaWear, located in a refurbished Verizon facility in Fairfax, VA, makes its promotional custom T-shirts for men and women using Fair Trade-certified organic cotton. In addition, the company uses "SeaInk," a proprietary dye process that uses a seaweed-derived base with no harmful inputs including PVC, resins, or binders.
"With SeaInk, MetaWear can avoid the harmful impact of standard dyes without sacrificing color vibrancy," says CAS Shiver, MetaWear Co-Founder and technical mastermind behind the ink development as well as the solar and geothermal energy practices the company employs.
In addition to being GOTS-certified, MetaWear is producing the world's first Cradle to Cradle Certified™ fashion T-shirt for leading lifestyle brand Under the Canopy – also founded by Ms. Zaroff. At the Cradle to Cradle Products Innovation Institute's recent "Fashion Positive" launch, industry leaders celebrated the organization's newest program dedicated to the circular economy, with certification focus on material health, material reuse, renewable energy, water stewardship, and social justice.
"I am approached regularly by organizations seeking sustainable, domestically made solutions to their T-shirt needs,' says Zaroff. "Authenticity and transparency in the supply chain add value, and cheap, toxic T-shirts are no longer seen as acceptable. The days of conventional GMO cotton, plasticol inks, hazardous dyes, and exploited workers are over. Today's smart businesses want to make choices that resonate with their core values."
As a result, MetaWear provides GOTS-certified T-shirts to numerous organic food and beauty companies, and has just partnered with the Organic Trade Association (OTA), where Marci serves on the Board of Directors. OTA members get a 10 percent discount on screen-printed organic cotton T-shirts and in return, MetaWear donates a portion of the total sales to OTA.
"MetaWear is on its way to revolutionizing the USA textile industry one GOTS-certified organic T-shirt at a time," states Zaroff.
###
Background:
According to OTA's 2014 Organic Industry Survey, organic fiber was the largest non-food organic category in terms of sales in 2013 for the second year in a row, reaching $960 million in sales that year. USA organic fiber product sales were up 16 percent over the prior year. Apparel is the leading non-fiber segment, followed by household textiles and baby products.
In a recent study released by Textile Exchange, organic cotton was proven to be much better for the environment than conventional cotton. The Life Cycle Assessment (LCA), conducted by leading global sustainable strategy consultancy firm PE International, overwhelmingly supports the use of organic cotton — showing significant reduction in global warming potential, soil erosion, water use, and energy demand.