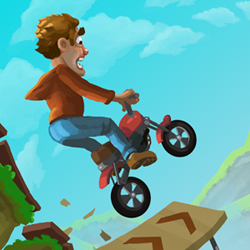 (PRWEB) March 19, 2015
A release from the makers of Fail Hard illuminates the high-comedy of the action game now that it is enabled for Intel® Atom™ Processor-based Android* tablets. The brochure sums up the fantastic features that gamers can anticipate.
Harnessing realistic physics, players choose a vehicle and attempt the unthinkable in some outrageous, death-defying obstacle courses. A thick skin and protective headgear are recommended with this entertaining, high-energy application. Complete with multiple levels, collectible coins that buy upgrades, responsive gameplay, and excruciating sound effects, gamers will get a huge jolt by downloading this app to their tablets.
The brief notes that a broader audience now has access to the heart-pounding hijinks of Fail Hard. The latest mobile devices offer solid performance so users can take the challenge, even while they travel.
About Fingersoft:
Fingersoft is a Finnish developer and publisher focusing on fun-filled content for mobile devices. The company, famous for its worldwide hit mobile game Hill Climb Racing, started its mobile app business in 2011. Together with Hill Climb Racing and other popular apps and games such as Benji Bananas, Fingersofts products are currently installed close to 700,000 times a day. Hill Climb Racing alone is totaling in over 260 million downloads globally. Fingersoft's products are available for iOS, Android, Windows Phone and Amazon Kindle.
About the Intel Developer Zone
The Intel Developer Zone supports independent developers and software companies of all sizes and skill levels with technical communities, go-to-market resources and business opportunities.
To learn more about becoming an Intel® Software Partner, join the Intel Developer Zone.
Intel, the Intel logo and Intel Inside are trademarks of Intel Corporation in the U.S. and/or other countries.
*Other names and brands may be claimed as the property of others.
Copyright © 2014 Intel Corporation. All rights reserved.