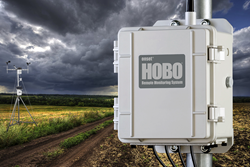 Bourne, MA (PRWEB) March 12, 2015
Onset, a world leader in data loggers and weather stations, today announced the HOBO RX3000 Station, the company's next-generation data logging weather station that provides research scientists, meteorologists and others with instant access to site-specific environmental data anywhere, anytime via the Internet.
Ideal for agricultural research, ecology studies, climate research, and other applications, the new station combines the flexibility and sensor quality of more expensive systems with the convenience of plug-and-play operation.
"The HOBO RX3000 makes it fast and easy for researchers to deploy an advanced environmental monitoring station without having to program it, or spend weeks of training on how to set up and use it," said Jessica Frackelton, senior manager of product marketing for Onset. "The user can simply plug in our Smart Sensors and the system will recognize them and begin taking measurements. The flexibility we now offer with support for our plug-and-play smart sensors gets magnified by the option for user-installable modules that support even more sensors. That, combined with an LCD display right on the unit, makes web-based environmental monitoring better than ever."
Flexible measurement capabilities
With the HOBO RX3000 Station, the measurement possibilities are nearly endless. The unit can be configured with up to 15 channels of plug-and-play Smart Sensors for measuring a range of weather parameters including temperature, relative humidity, rainfall, soil moisture, wind speed and direction, leaf wetness, barometric pressure, photo-synthetically active radiation (PAR), and solar radiation. Swap-in sensor modules allow an additional eight channels of analog sensors to be added. Additionally, the station is able to power external sensors requiring 12-volt excitation power, further extending the range of measurements that are possible. This flexible sensor support is ideal for environmental monitoring projects where measurement needs change over time.
Easy deployment, reliable performance
Designed for fast, hassle-free deployment, the HOBO RX3000 provides a number of advantages that save researchers time and money. For example, the station's easy-to-view LCD display helps the user visually confirm logger operation, sensor connections, cellular signal strength, and other system parameters before leaving the deployment site. The LCD also displays fault codes that enable users to diagnose any system issues in the field and know right away if something isn't working properly.
The station features a solar panel- or AC-powered rechargeable battery, and a rugged, double-weatherproof enclosure that provides reliable, accurate long-term monitoring – even in the harshest outdoor environments. And, the station's alarm capabilities can notify users of sensor or system failures remotely so they can be fixed before critical data is lost. This eliminates the need to travel out to the field site to check on system operation.
Control capabilities
The HOBO RX3000 Station can be equipped with an optional relay module to enable the system to remotely control other equipment in the field. For example, in irrigation management applications, the station's relay can activate irrigation pumps when soil moisture levels go below the desired minimum threshold, and then turn the system off once the soil moisture nears saturation.
Cloud-based data access
The HOBO RX3000 Station is equipped with cellular communications, and transmits data to Onset's HOBOlink® web-enabled software platform. HOBOlink allows users to easily access current and historical data from the web, manage and control HOBO RX3000 stations remotely, and set alarm notifications. Automatic delivery of data files can be scheduled via email or FTP in CSV or XLSX format, and an API (application programming interface) is available to organizations that want to integrate environmental data from HOBOlink web servers into their applications. The HOBO RX3000 can also be equipped with Wi-Fi and Ethernet communication options.
Pricing and availability
The HOBO RX3000 Station is available immediately from Onset and is priced at $899. Learn more at http://www.onsetcomp.com/rx.
ABOUT ONSET
Onset is a leading global supplier of data loggers. The company's HOBO data logger and weather station products are used around the world in a broad range of applications, including building energy performance monitoring, water resources management, and ecological and agricultural research. Based on Cape Cod, Massachusetts, Onset has sold more than 2.5 million data loggers since the company's founding in 1981. Visit Onset on the web at http://www.onsetcomp.com.
READER CONTACT
Onset Computer Corporation
1-800-564-4377 / 508-759-9500
http://www.onsetcomp.com
sales(at)onsetcomp(dot)com