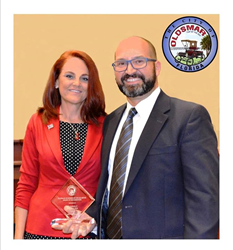 'A job well-done at Sunbelt is not only accomplished within our office walls, it extends to what we do to help make positive changes in our communities.' -- Howard Gerber, Vice President of Sunbelt Staffing
Tampa, FL (PRWEB) March 16, 2015
Sunbelt Staffing has been named the "Business of the Quarter" by the City of Oldsmar. The award is presented to companies based on their number of years in operation and involvement in community activities.
Oldsmar Vice Mayor Linda Norris presented the "Business of the Quarter" Award to Sunbelt Staffing during a city council meeting on March 3. Norris noted Sunbelt's employment of great corporate citizens and longevity in the City of Oldsmar as the primary reasons for being selected as the "Business of the Quarter."
"We are thrilled to be recognized by the City of Oldsmar as a valuable community resource," said Howard Gerber, Vice President of Sunbelt Staffing. "A job well-done at Sunbelt is not only accomplished within our office walls, it extends to what we do to help make positive changes in our communities."
The purpose of the "Business of the Quarter" designation is to recognize the role a business plays in making Oldsmar a great place to live, work and play. Started in July 2004 as "Business of the Month," Oldsmar's "Business of the Quarter" has since led to the "We Mean Business" program, which gives the Mayor, the City Manager, and the Upper Tampa Bay Chamber of Commerce a better understanding of the businesses that operate in Oldsmar.
Sunbelt Staffing is a healthcare staffing company that has been connecting healthcare professionals with facilities nationwide for more than 25 years. It offers travel, per diem, and permanent placements in nursing, therapy, advanced practice, and schools. Sunbelt employees created Sunbelt Cares, an employee-managed program, through which they donate their time, money, and resources to various community improvement projects.
To learn more about Sunbelt Staffing, visit http://www.sunbeltstaffing.com.