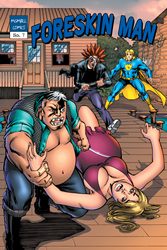 One thing I hear a lot from victims of male genital mutilation is 'I wish I could confront the doctor who cut me'
San Diego, CA (PRWEB) March 18, 2015
Remember Doctor Edric Griswold, that creepy circumcising physician who transforms into Dr. Mutilator in the presence of an intact foreskin? Well, he's back, and this time he's out to create as much mayhem as possible after being selected as the keynote speaker for an annual pediatrics conference in New Orleans.
"Foreskin Man #7: Blowback" is written by Matthew Hess, president of the intactivist organization MGMbill.org. Hess wrote the story to illustrate how infant circumcision inflicts lifelong physical and psychological damage.
"I cannot count the number of men that I've met, spoken to, or emailed who have told me how deeply circumcision has negatively impacted their life," said Hess. "Many were left with so few nerve endings that they have difficulty maintaining an erection, while others were cut so tightly that they feel pain rather than pleasure during sex. Some had severely botched circumcisions that resulted in follow-up surgery, which provided little relief."
As one can imagine, most of these men harbor deep feelings of resentment and grief.
"One thing I hear a lot from victims of male genital mutilation is 'I wish I could confront the doctor who cut me'," said Hess. "It made me wonder, what would a man who spent his life suffering from the consequences of circumcision do if he actually came face-to-face with the person who was responsible?"
Hess decided to write a comic book about what might happen. Foreskin Man #7 tells the story of Donovan Tracer, who was circumcised as an infant 27 years earlier. As his life begins to fall apart, Donovan connects the dots from his downfall back to that fateful day in the circumcision ward. He soon decides to meticulously plot his revenge.
To find out what transpires, fans will have to pore over the pages of Foreskin Man #7: Blowback. The comic book is available to read and download for free at http://www.foreskinman.com. Printed copies may also be purchased online or ordered through a local comic book store.