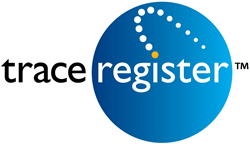 Traceability information is useless if it can't be shared," says Carl Salamone, Vice President Seafood Sustainability at Wegmans Food Markets.
Boston, MA (PRWEB) March 15, 2015
Trace Register, the global leader in seafood traceability, announces its new "TR-Common" traceability standards at Seafood Expo North America (booth #166). TR-Common will enable supply chain partners that are not Trace Register subscribers to send traceability and product information to TR Enterprise subscribers or to other compatible 3rd party systems. Any company will be able to use TR-Common to build a compatible system, whether developed in-house or by a third party vendor, to send traceability data.
"We don't expect there to be only one traceability system in the world, but we do expect there to be interoperability between systems. The data format and API for exchanging traceability data should not be considered trade secrets," states Phil Werdal, president.
"There is a lot of important work being done in seafood traceability. The National Fisheries Institute and GS1 US developed the U.S. Seafood Traceability Implementation Guide; The Presidential Task Force is recommending traceability to combat IUU fishing and seafood fraud; and the Global Food Traceability Center (GFTC) is working on architecture standards for traceability interoperability. We support these efforts by offering what we have learned, and invite others to join us in bringing real life solutions to the table that will enable greater interoperability in the global seafood industry," states Werdal.
"Traceability information is useless if it can't be shared," says Carl Salamone, Vice President Seafood Sustainability at Wegmans Food Markets. "There's a need for systems that allows the accurate transfer of data up and down the complicated seafood supply chain."
About TR-Common:
Trace Register has created integrated traceability solutions with many third party software vendors. "Security is a corner stone of the TR-Common architecture. In addition, much effort has been spent on making it easy for third parties to implement. TR-Common is the next step in continuing our commitment to openly work with the industry," states Werdal.
As a first step, Trace Register will publish its common standard for Digital Traceability. Trace Register does not intend for TR-Common to become an industry standard. TR-Common will be Trace Register's implementation of an open (published) group of traceability components that a third party can use to send digital traceability data to TR enterprise subscribers.
TR-Common will be architected to work with multiple standards and addresses:

The mechanism for obtaining the machine address of the receiving party
The protocol for communication between the different systems
The definition of the payload, the traceability document
The definition of the attributes and values contained in the payload
Security (Authorization)
Confidentiality
How Supply Chain Industry Partners Can Participate:
Supply chain partners are invited to stop by Trace Register's booth (#166) at Seafood Expo North America March 15-17, 2015 to obtain more information or register for the first open working group that will take place in late March. Or, contact Trace Register at +1 (206) 621-1601 or info(at)traceregister(dot)com.
About Trace Register
Trace Register is the preferred traceability system for the global food industry. Trace Register's platform provides 'net to plate' tracking information about how seafood is harvested, raised and produced. The company's Traceability Plus analytic software helps producers, distributors and retailers confidently manage supply chain data and deliver consistently good food to consumers. This powerful platform also helps global supply partners reduce costs whiles ensuring food safety, authenticity and customer loyalty.
Founded in 2005, Trace Register has more than 2,000 users in 24 countries. Trace Register is a privately held company headquartered in Seattle, Washington, with regional offices in South America and Asia. For more information, visit http://www.traceregister.com.
###