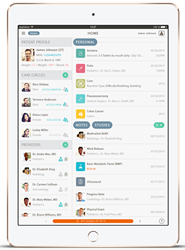 By centering medical records on the patient—the one constant for each of their own health encounters—we can help allay the frustration doctors feel from being in the dark about a patient's history, while simultaneously empowering the consumer
Silicon Valley, CA (PRWEB) March 17, 2015
The Patient-Oriented Electronic Medical (POEM) Record™ by Zobreus gives users access to, and control over, all of their healthcare data in a structured, mobile EMR, so that the information is easily accessible to doctors as needed. Consumers can access their full records, chat with providers, create health diaries, and form "care circles" for sharing the records of loved ones. "By centering medical records on the patient—the one constant for each of their own health encounters—we can help allay the frustration doctors feel from being in the dark about a patient's history, while simultaneously empowering the consumer," says CEO and co-founder Okey Onyejekwe Jr., M.D., a practicing physician.
Zobreus automates the workflow, starting with users completing a short registration and consent for release of medical records from within the app. The startup then uses its pipeline architecture to retrieve and process the data through to Zobreus' machine learning algorithms which structure the information into the POEM Record™. "We wanted to take the pain out of obtaining your records. The only thing a user has to do is a 5 minute registration and consent, and we handle the rest," says co-founder and CTO Patrick Ohiomoba.
"We're addressing a large, unmet need from health consumers who overwhelmingly want full, unfettered access to their health records," says Onyejekwe. "We needed to demystify the medical record for consumers. And in doing so, we necessarily removed much of the drudgery of creating and processing medical records that also plagues doctors. The result is our intuitive, gorgeous, and powerful EMR," continues Onyejekwe.
The POEM Record™ is usable by health providers, both as a stand-alone EMR and as a seamless means for providers to make their medical records available to patients regardless of which EMR they use. Doctors' offices can transmit patient records to the POEM Record™ pipeline upon consent, even where the provider isn't a POEM Record™ user. "As a physician, I'm very sensitive to the concerns doctors have about doing more with less time and resources. We built the POEM Record™ so that providers could engage patients without any additional provider time or money," says Onyejekwe.
Zobreus has taken extensive measures to ensure the security and privacy of personal data. "Our solution encrypts your data on your device, on our servers, and during transmission. So not only is your data as secure as possible, but it's also securely retrievable in the event you misplace your device," says Ohiomoba.
The POEM Record™ costs nothing to download and use. Though the company is still assessing how it will price its solutions, users who preorder through its Kickstarter page can get the POEM Record™, records retrieval services, and records hosting indefinitely at no cost (minus a one-time pledge).
About Zobreus
Zobreus Medical Corporation is a health-technology company that specializes in delivering mobile health technologies to consumers. More information is also available at http://www.poemrecord.com. Additional inquiries can be addressed to Kimberly Dawson at info(at)zobreus(dot)com.