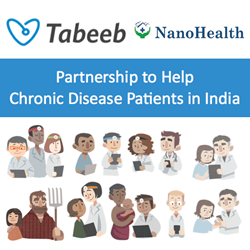 I am excited to learn about the partnership between NanoHealth and Tabeeb. Both services have a similar focus – on improving the lives of people in the communities that they serve
Boston, MA (PRWEB) March 17, 2015
NanoHealth, a social enterprise founded by a group of ISB alumni, is providing holistic managed care services for chronic disease in low-income groups. By creating a network of community health workers called "Saathis", and using innovative technology, NanoHealth brings cost effective healthcare to the doorstep of the urban slum dweller. Focused on chronic diseases such as diabetes and hypertension, NanoHealth is improving the diagnosis of hypertension and diabetes by screening patients for high blood pressure and high blood sugar in screening camps conducted in slums. High-risk patients are referred to a network of physicians who treat the patients at a subsidised cost. The Saathis then use the proprietary Doc-in-a-Bag™ for ensuring that the patients are complying with the prescription and their disease markers are under control. This service has received tremendous response from the slum dwelling population of Hyderabad, where the service has been launched.
Tabeeb is a US based firm, which is building a virtual network of specialist doctors from around the world. It is a unique platform where general physicians and specialists can share insights on patient cases and seek guidance from their peers in the medical fraternity. Tabeeb's growing network of doctors includes Cardiologists, especially important for this partnership as NanoHealth physicians can leverage these doctors to seek specialist guidance on complicated cases.
"The NanoHealth service is unique in involving the community to ensure that patients stay on treatment and hence prevents disease aggravation and complications. The partnership with Tabeeb is an important next step in bringing an end-to-end solution to our patients. Now, NanoHealth patients will have access to specialist opinion, from the very best doctors from around the world," says Dr. Ashish Bondia, Co-Founder and Director of NanoHealth.
"Even though NanoHealth was able to provide the required care and intervention through Saathis and the doctors on the network, few patients did need specialist consultation. Access to specialists is the most difficult and expensive part in the entire healthcare value chain. Tabeeb provides the platform to bridge that gap. This is the best example of how technology can be leveraged to get the best care from around the world to the ones who need it the most," says Mr. Manish Ranjan, Co-Founder and CEO of NanoHealth.
The NanoHealth-Tabeeb partnership is the first of its kind co-operation in the social enterprise space. This partnership leads to the formation of a virtual hospital for the benefit of patients in low-income communities. The entire Tabeeb network is now accessible to NanoHealth patients and physicians for free. As a first step NanoHealth will train its physicians on the Tabeeb platform, which now has hundreds of specialist doctors. This also gives specialists in the US and around the world, direct experience in working with patients from other cultures and communities, and enhances their knowledge and skills.
"Tabeeb strengthens medical teams by providing multimedia collaboration tools. Doctors can team up, discuss and update clinical cases and provide help to each other in a secure and confidential way. We believe clinical knowledge should not have boundaries and doctors can have patients anywhere. Tabeeb is a first step in equitable, accessible care for everyone. NanoHealth's service and initiatives are instrumental in addressing growing healthcare needs in India. We are delighted to work with NanoHealth," says Dr. Osama Alshaykh, Founder and CEO of NxTec, providers of Tabeeb.
"The Partnership with NanoHealth is an important step, where a patient in Hyderabad will get access to state of art global clinical knowledge. For example, Professor Omar Lattouf from Emory University, Dr. Eyas Youssef from Illinois and Dr. Werner Christie from Norway will be able to view clinical cases and decipher data coming from Saathis in India. This is a clear demonstration of the quality of Tabeeb and NanoHealth platforms," says Barbara Emond, President of NxTec.
"I am excited to learn about the partnership between NanoHealth and Tabeeb. Both services have a similar focus – on improving the lives of people in the communities that they serve. This partnership will go a long way in fostering co-operation between specialists and general practitioners from across the globe and will eventually lead to better health outcomes for patients," says Hitendra Patel, Board Director of Hult Prize Foundation and MD of IXL Center.
We invite global and local organizations and individuals to participate and sponsor this important societal service. For more information, please email team(at)tabeeb.org for specific ways to contribute.
About NanoHealth
NanoHealth is a social enterprise specializing in chronic disease management, and provides holistic managed care services by creating local health networks and using innovative technology to bring cost-effective healthcare at the doorstep. NanoHealth creates a network of community health workers called 'Saathis' and equips them with a low-cost point-of-care device called the Doc-in-a-Bag™. NanoHealth's Saathis, who are well-trained and empowered, form a strong network of care-givers extending the reach of healthcare right to the doorstep of the patient.
With the right care model and the use of technology, NanoHealth promises a winning model for the fight against chronic disease. NanoHealth is starting its operations in India. The technology allows this model to be quickly replicated and be implemented in other parts of the world as well. For more information log on to http://www.nanohealth.in
About Tabeeb
Tabeeb is a Healthcare Collaboration Service for Doctors, using state of the art multimedia tools to enhance communications between medical teams around the world. Specialists will reach more patients and Doctors will have access to the most advanced clinical knowledge and expertise. The end result is high quality care for patients, everywhere. For more information, please visit http://www.tabeeb.org. Tabeeb is a service provided by NxTec Corporation.