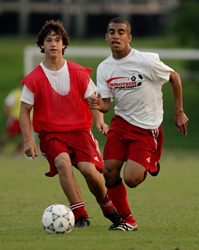 2015 marks the 16th year Eurotech has operated summer soccer camps in Louisiana and the 10th on the campus of NSU
Newport News, VA (PRWEB) March 18, 2015
Eurotech® Soccer World, developer and exclusive provider of North America's premier technical soccer training system, has announced its schedule of Louisiana soccer camps for the summer of 2015. Camps will be held July 19-24 at Louisiana-Nicholls State University in Thibodaux, just west of New Orleans.
2015 marks the 16th year Eurotech® has operated summer soccer camps in Louisiana, and the 10th on the campus of NSU, whose women's soccer coach, Dylan Harrison, is also Eurotech's Regional Director. "We're thrilled to have Dylan on board again this year," said Eurotech® National Director Jim Risher. "As both a Louisiana native and a talented Division 1 soccer coach, he brings ideal credentials to the job." He's also very familiar with NSU's first class facilities, including a multi-million dollar Sports Recreation Center that ranks among the finest in the South. The campus is already home to a number of national sports camps, including the Peyton Manning Football Passing Academy.
Eurotech's soccer camps will take place from July 19th through July 24th. Campers can choose either a 4-day or 6-day session, with full day, extended day and overnight options available for both. Like all Eurotech® offerings, the NSU soccer camps are designed for competitive individual players as well as club and high school teams, with separate programs for field players and goalkeepers.
Enrollment is limited to 75 campers, so early registration is strongly recommended to ensure placement. Also, campers who act quickly can also take advantage of several discount opportunities, including an Early Registration discount of $25, a Returning Camper discount of $25, and a Family Camper discount of $25.
For complete information about Eurotech's Louisiana soccer camps, including pricing, visit EurotechSoccer.com.
About Eurotech Soccer World
Founded in 1990, Eurotech® Soccer World is globally recognized for developing North America's premier technical soccer training system, the result of 25 years of international research and intense study of the world's top professional academies and youth systems. Key features of this elite instructional system include:

Separate field player and goalkeeper programs designed for competitive individual players, club and high school teams
Unique mix of technical and tactical instruction, combined with tournament style matches to develop creative, versatile and confident soccer players.
Certified coaching staff recruited from the finest youth programs in the world and featuring former professional, Olympic and national team players and coaches.
First class facilities in every market, including college and elite prep school campuses
Overnight, extended day and full day program options
For more information, visit http://www.EurotechSoccer.com.