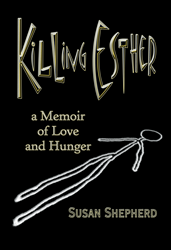 It's not until it's too late that Susan realizes her sister, Esther, is on a one-way trip of self-destruction and mental illness.
CUTCHOGUE, N.Y. –
(PRWEB) March 18, 2015 -- Life with a sister who wishes she'd been an only child isn't easy, especially when that sister gradually takes over all the attention in the house. Author Susan Shepherd shares heartbreaking memories of her days growing up in the 1960s and '70s in New York State with her older sister and brother and distant parents in this new book released by Dog Ear Publishing. It's not until it's too late that Susan realizes her sister, Esther, is on a one-way trip of self-destruction and mental illness.
Susan writes that her parents laid the groundwork for Esther's psychosis with years of histrionics long before her sister even began her devastating dieting and extreme self-absorption. The daughter of a golf course groundskeeper and mother who resented her husband's longtime affair learns early on that she's the least important child in the house. Although she adores her older brother, she's forced to give up childhood wonders like Santa Claus and the Easter Bunny simply because her sister already has, noting that their house was a place "where being thrown out a bedroom window by your older sister during a 'fire drill' not only doesn't get you to a hospital for stitches, it doesn't even get Mom's attention."
"Killing Esther" details rare instances when family members might have made a difference, such as the one day Esther opens up to Susan, wondering out loud if something is wrong with her. Later, Susan realizes it was a missed opportunity to discuss Esther's emerging madness. Esther begins extreme dieting to lose weight she has no business losing, and by the time she graduates from high school in 1974 she's become a scraggly-haired marionette with clattering bones. Neither parent seems to accept reality, and hospitalization in a mental facility arrives too late to do more than hasten the inevitable.
Author Susan Shepherd, a retired law enforcement officer who interviewed criminals and wrote reports for the court, lives on the North Fork of Long Island with her husband and their three horses and four cats. She is working on her seventh book, "Rah Returning," which is the fourth novel in The Saga of the Rah series. Shepherd has one brother.
----------
For additional information, please visit http://www.susanshepherdbooks.com
Killing Esther: A Memoir of Love and Hunger
Susan Shepherd
Dog Ear Publishing
ISBN: 978-1-4575-3397-6 148 pages $12.95 US
Available at Ingram, Amazon.com, Barnes & Noble and fine bookstores everywhere.
About Dog Ear Publishing, LLC
Dog Ear Publishing offers completely customized self-publishing services for independent authors. We provide cost-effective, fast, and highly profitable services to publish and distribute independently published books. Our book publishing and distribution services reach worldwide. Dog Ear authors retain all rights and complete creative control throughout the entire self-publishing process. Self-publishing services are available globally at dogearpublishing.net and from our offices in Indianapolis.
Dog Ear Publishing – self-publishing that actually makes sense.