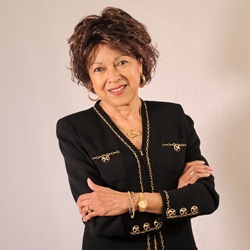 It's my fervent desire to expose readers to a variety of cultures and ethnicities side by side
CINCINNATI (PRWEB) March 19, 2015
What if someone told you that you had a doppelganger halfway across the world? Would you search for the person to seek answers about your origins? In "The Midwife Factor," 19-year-old Morgan Wellington faces this dilemma. An adopted child from a prestigious American family, Morgan sets off in an adventure to Budapest to find her lookalike and see if she can explain the flashes of another's thoughts, feelings and dreams that she has sensed since childhood.
Traversing from Cincinnati to Budapest to Romania, the book unveils lively characters along Morgan's path: Lynn Davis, the savvy private detective, Flossie Walker, the octogenarian African-American midwife who holds the truth of Morgan's birth, and a sinister sociopath on the verge of release from prison.
"The Midwife Factor" appeals to readers who have ever wondered "what if" about their life, "what if" they had been born in another country to another family. Throughout the book, author GiGi Gossett weaves fiction with thrilling mystery and creates a diverse cast of characters befitting today's modern international landscape. Gossett's inspiration for the book came from twin sisters of hers who passed away when they were young.
"The telepathic relationship has always fascinated me, as has the global role of midwives," said Gossett, "It's my fervent desire to expose readers to a variety of cultures and ethnicities side by side—much like our world today— and create a work of fiction that readers won't be able to put down."
For more information about the book, visit http:http://www.gigigossett.com. To learn more about the author, visit http://www.gladyshankins.com.
The Midwife Factor
By GiGi Gossett
ISBN: 978-1-49174-391-1
Available in hardbound, paperback and e-book
Available on Amazon, Barnes & Noble and iUniverse
About the author
Gladys Gossett Hankins, also known as "GiGi Gossett," is an internationally recognized speaker and consultant on diversity and organizational effectiveness and is president of management consulting firm Telora Victor, Inc. A native of Kansas City, she holds a PhD in Organizational Behavior and Development from Union Institute and University and spent the majority of her career as an executive at Procter & Gamble Company in Cincinnati. Her previous fiction titles, both set in Cincinnati, include pre-teen novel "A Twisy Girls Mystery: The Case of the Dropped Pearl" and mystery title "By Any Other Name." She is also the author of "Diversity Blues, How to Shake 'Em," a business book which examines racism and sexism in organizations and proposes functional solutions.
# # #
**FOR IMMEDIATE RELEASE**
For review copies or interview requests, contact:
Jaymie Shook
317-602-7137
jshook(AT)bohlsengroup.com
When requesting review copies, please send a shipping address