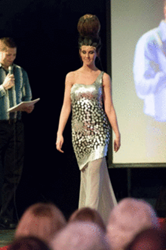 Last year's Fashion SOULstice runway hair event raised more than $47,000 that funded the building of a salon, beauty school, and scholarships for survivors of human trafficking in Cambodia.
Seattle, WA (PRWEB) March 19, 2015
Fashion SOULstice, a live runway hair fashion show featuring the work of some of the best hair designers in Seattle from 15 of the top Northwest salons will be Saturday, March 28 at 6:30 p.m., at Emerald City Trapeze Arts. The event is a benefit for the Justice and Soul Foundation, a nonprofit with Seattle roots that is bringing hope and restoration to lives of those at risk and survivors of sex trafficking in Seattle, and in Cambodia. Fashion SOULstice will showcase upcoming hair, make up, and fashion trends, while integrating major themes of the Foundation: hope, restoration, empowerment, and soul. Tickets including admission to the event, appetizers and two drink tickets, are $35 in advance at fashionsoulstice.brownpapertickets.com, or by calling Brown Paper Tickets' event concierges 24/7 at 1-800-838-3006.
Justice and Soul Foundation co-founder Matthew Fairfax is a Seattle salon owner who is now working full time helping the victims of human trafficking to get the job skills necessary to support themselves and help them to restart their lives. Last year's Fashion SOULstice runway hair event raised more than $47,000 that funded the building of a salon, beauty school, and scholarships for students in Cambodia.
"We've accomplished so much since the first Fashion SOULstice last April," explained Justice and Soul co-founder Matthew Fairfax. "We've opened the Kate Korpi Salon and Academy, and graduated the first class of students from Phase 1 of training. This second annual event will be an opportunity for us to raise money to further the mission of the Academy, enroll additional students, and encourage salon and spa professionals to consider joining us in Cambodia to help educate our students. We can't wait to share the news of our accomplishments and plans for the next 12 months."
Fashion SOULstice will feature Chateau St. Michelle Wines, a signature cocktail drink, appetizers, a silent auction with donated items form area galleries and more. Salons across the country are now raising money for Justice and Soul, international companies such as Moroccan Oil, Dermalogica and Davines Hair Care are donating cash and products (over $35,000), and Paul Mitchell (through the Andrew Gomez Dream Foundation) donated $25,000 last year to support the building of the salon and academy.
For more information about Justice and Soul, visit http://www.justiceandsoul.org and http://www.facebook.com/justiceandsoul.
###
EDITOR'S NOTE: High-resolution photos and in-studio interviews with Justice and Soul co-founder Matthew Fairfax are available
About Justice and Soul: Two Seattle beauty industry professionals knew that they could do something to make a difference, and are enlisting the support of the beauty industry to create a sustainable, systemic solution that addresses sex trafficking.
About Brown Paper Tickets: Brown Paper Tickets (http://www.brownpapertickets.com) is the socially conscious global leader in online ticketing and event registration, helping people in 68 countries plan, promote and sell out events. As a social innovator, the company donates 5 percent of profits to charity with every ticket sold, supports a team of full-time community advocates, called "Doers," and still charges the lowest fee for ticketing and services in the ticketing industry. In 2014, Brown Paper Tickets was rated #1 for ticketing and event registration by http://www.FindTheBest.com. To learn more about the world's only Not-Just-For-Profit ticketing company, visit http://community.brownpapertickets.com/press/.