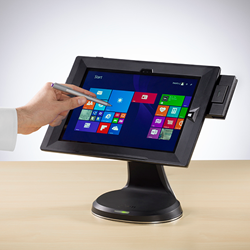 "The Designed For Surface program was created to address the growing demand for Surface accessories to complete a wide range of use scenarios in business, at home and on the go," said Cyril Belikoff, Director, Microsoft Surface.
Salt Lake City, UT (PRWEB) March 19, 2015
Designed and engineered to 'retail proof' the Microsoft Surface Pro 3, the ArmorActive Enterprise Tablet Pro™ was engineered to eliminate the current challenges of tablet deployments for business applications, allowing full interactivity and connectivity for any business application within multiple vertical markets.
A fully integrated Microsoft Surface Pro 3 kiosk system that offers complete security, integration and connectivity — all while maintaining the mobility, simplicity and ease-of-use that makes the Surface Pro 3 such a revolutionary tool for businesses.
DESIGN BENEFITS
Easy to Interact with Tablet:

Multiple orientations allows for integrated use, enhancing the sales or presentation experience:
– Rotate to portrait or landscape orientation
– Swivel rotation from 180° to 0 to 180°
– Tilt 90° for 'table top' orientation

Quick release with integrated hand strap behind case — allows easy, single-hand hold or carry
Complete Integration:

Proprietary connection feature both secures and powers the tablet, making it simple and easy to set up.
Turns tablets into fully functional workstations:
– Multiple USB 2.0 inputs allowing for: multi-screen set-up, keyboard, mouse
– Ethernet (RJ45)
– HDMI for network integration's

Enterprise Tablet Case™ keeps the tablet secure and protected while being fully integrated — no external wires for locking, docking and connectivity:
– Protects screen, buttons and connectors against drops, falls, and wear-and-tear from extensive use:
Easy Release RFID Card Locking Technology:

Unlocks with one swipe of a card for single hand release
Auto-locks when inserted into base, so tablet is always secure and charging
Tablet 'quick release' feature in event of a power outage means you're always in control of your technology
Easy to read LED system
For more information 'click here'
About ArmorActive:
ArmorActive, a division of Mobile Technologies Inc. (MTI), specializes in multi-purpose enclosures that allow tablet deployments for business. We manufacture equipment that increases the security, accessibility, mobility, and engagement level of tablets for every major business application.