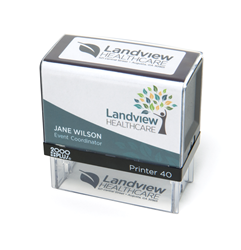 "We are so excited to offer the newly-designed 2000 PLUS stamp to our customers," says Chris Wiederkehr, Business Development Manager for Navitor Stamps
North Mankato, Minn. (PRWEB) March 19, 2015
Navitor, located in North Mankato, MN, is pleased to announce the addition of new features in the popular 2000 PLUS® line of personalized self-inking stamps.
Navitor's selection of new 2000 PLUS® Standard Printer Series stamps will include a clear base which allows for more accurate impression placement.
Another feature of these new stamps is the ability to personalize them with new ImageCards™, giving the stamp a unique appearance. Each stamp ships with an invitation to an image design studio on the 2000 PLUS® website. This site includes free ImageCard™ templates that can be designed and printed from home.
"We are so excited to offer the newly-designed 2000 PLUS stamp to our customers," says Chris Wiederkehr, Business Development Manager for Navitor Stamps. "They are great for business promotion or for just personalizing a desk. The initial feedback has been overwhelmingly positive. Customers keep saying they haven't seen something this unique and fun in the stamp market for a long time."
The new features come alongside the existing features of the 2000 PLUS® stamp line, including five available ink colors, six available impression sizes, and built in Microban® antimicrobial protection.
More information about Navitor and the company's complete selection of stamps, daters, and embossers can be found at Navitor.com.
About Navitor
Navitor Inc. is one of America's largest commercial wholesale printers, delivering innovative programs, services and technologies exclusively to our community of resellers. Headquartered in Minnesota and with manufacturing facilities nationwide, Navitor provides print resellers and distributors the industry's widest catalog of personalized print and custom business identity products. Navitor is part of the Taylor Corporation family of companies. For more information, visit our website at Navitor.com.