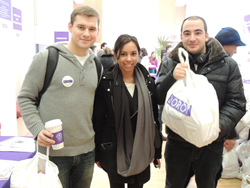 New York, NY (PRWEB) March 20, 2015
On Sunday, March 22nd, hundreds of volunteers of all ages will meet at DOROT, a nonprofit organization that helps to alleviate social isolation among older adults. These volunteers will deliver packages filled with kosher for Passover food to over 500 seniors in New York City and Westchester.
Each volunteer will not only deliver food to an elder, but will also stay for about an hour, chatting, swapping stories and creating lasting friendships and memories.
This annual event is so important to both the older New Yorkers and the volunteers who participate. It allows frail and isolated seniors to celebrate all the traditions of Passover while getting to know a new friend. Some of these newfound relationships last for years.
For more information about DOROT and Passover Package Delivery, please visit http://www.dorotusa.org.