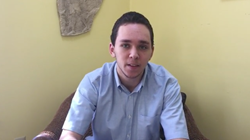 WILLIAMSBURG, Va (PRWEB) March 19, 2015
Teen author Canaan Kennedy has launched a Kickstarter campaign for his first book, Struggles to Victory: Over Racism in America.
At 17, Kennedy wanted to know how his grandparents and parents had journeyed through American society to achieve their dreams. He set out to interview his father, grandfather, and grandmother about their experiences persevering through everything from racism in the 1940s and 50s to a police beating in Virginia that predated the Rodney King incident by just a few months.
The book operates from one main tenet: for every story of struggle, there are more of victory. Kennedy's family is full of such stories. What challenges did they face? How did they successfully beat the odds and prevail? Why can't these positive stories trump the media stereotypes? What does it mean to be middle class, educated, and black in America?
Through the interviews conducted with his family and his own observations of how this has informed and will inform who he is, Kennedy's hope is that these stories will serve a larger narrative of struggles leading to victory.
About Canaan Kennedy
Canaan Kennedy is a senior in high school in Virginia. In the past year he's produced a short movie and conducted a survey on racial relationships at his school. He's also conducted several interviews with his family about their work and views on the world, which this Kickstarter campaign is bringing to life in the form of a book.
Kennedy is interested in media journalism, which he hopes to pursue in college. One of his role models is Fareed Zakaria. He's also a member of the Model UN and Forensics Club at his school, he enjoys lectures on literature, and he's an avid football fan.
Check out the project at https://www.kickstarter.com/projects/mbreauxsia/struggles-to-victory-a-book-by-canaan-kennedy, and share your own stories of victory on social media using the hashtag #StrugglesToVictory.
###
Media contact:
Maria Breaux
maria(at)mbreauxsia(dot)com
415.285.9236