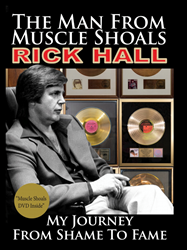 MUSCLE SHOALS, AL (PRWEB) March 18, 2015
Everyone knows the music—from Wilson Pickett's "Mustang Sally," to Etta James' "Tell Mama," to Aretha Franklin's "I Ain't Never Loved A Man," to Clarence Carter's "Patches"—but not many know the complicated, volatile and impossibly driven man behind the elusive "Muscle Shoals Sound." Not many know the rare and coveted 'secret sauce' that made droves of successful artists and literally hundreds of gold and platinum records possible.
Meet Rick Hall, the "Father of the Muscle Shoals Sound" and the unofficial father of the funky, catchy and distinctively Southern vibe of music that helped define a generation. Seemingly from its founding, Hall's FAME Studios and Muscle Shoals itself—a rural town of 8000 residents—became an almost mystical breeding ground for transcendent music, inexplicably attracting the biggest names in music history to fly in for creative recording sessions produced and engineered by Rick Hall. In many cases, this launched their careers:
● Pillars like Aretha Franklin and Wilson Pickett
● Groups like The Osmonds, Alabama and the Allman Brothers
● Pioneers like Mac Davis, Clarence Carter, and Arthur Alexander
● Superstar solo artists like Paul Anka, Liza Minneli, Tom Jones, Andy Williams, Bobbie Gentry and many more
● W.C. Handy and Sam Phillips were both born in the Muscle Shoals area
● But now you will know the rest of the story
And now, Heritage Builders is proud to release the official autobiography of Rick Hall, an eye-opening first-hand account of one of music's most fascinating untold stories, and a telling portrait of the "imperfect perfectionist" who's forever intertwined into the fabric of music history.
Book Description
"The Man from Muscle Shoals" (ISBN: 978-1-941437-52-0; Nonfiction / Memoir; 400 pages; March, 2015) is the compelling memoir of Rick Hall, who came from extreme poverty in rural America, to build one of the most famous recording studios in the world. Rick Hall pioneered a new sound that would inspire artists, give birth to new kinds of music and launch the careers of hundreds of superstars. He wrote, published and produced hundreds of hit records.
With more than 210 hit chart singles credited to his production roster (and 40+ Gold and Platinum records), Rick Hall is indisputably the top producer of successful Pop, Rock, R&B and Country records in the world. Hall's FAME Studios in Muscle Shoals, Alabama is internationally renowned for its distinctive, soulful and cutting-edge sound—dubbed the "Muscle Shoals Sound." And it is the oldest continuous operating studio in the world under the same owner in its' original location.
From the moment "You Better Move On" by Arthur Alexander was recorded and released, hit records began coming together in Muscle Shoals at an impossibly rapid rate. And not without controversy: FAME Studios' fluid and open collaboration among black and white artists was a revolutionary cultural standard not only to "deep south" Alabama, but to the nation at large. FAME's color blind atmosphere, and the raw music it produced, would help shape American culture during its most troubled and tumultuous time.
Music fans and history buffs alike will be fascinated by the stirring account of Rick Hall's life and career – a life and career of music. The book comes with a bonus DVD of the Grammy award-winning documentary, "Muscle Shoals," which recounts the powerful story of Muscle Shoals' unique place in the music world, and of Rick Hall, "The Father of the Muscle Shoals Sound," who pioneered the raw beats that made it all possible.
About the Author
Rick Hall was born to a family of sharecroppers in Tishomingo County, MS, and was raised in Franklin County, AL. He moved to Rockford, IL, as a teenager and began playing in local bar bands. He went on to become a record producer, songwriter, music publisher, and musician who is best known as the owner and proprietor of the legendary FAME Studios in Muscle Shoals, AL. FAME is the oldest studio in the world still operating under the same owner. Rick won a trustees Grammy Award for lifetime achievement when the documentary Muscle Shoals brought his achievements to the limelight. The documentary was produced by Stephen Badger and directed by Greg "Freddy" Camalier. Rick lives in Muscle Shoals, AL.
About Heritage Builders Publishing
Heritage Builders Publishing was launched in 2009 with a mission of publishing Christian books geared to help the family. Heritage Builders' current titles include the "Serendipity" series from best-selling Children's book author Stephen Cosgrove; "The Legend of George Jones" from Charlene and Earl "Peanutt" Montgomery; Grammy winner Rick Hall's autobiography, "The Man from Muscle Shoals" and the best-selling "Family Nights Tool Chest," first introduced by Focus on the Family in the late 1990's. For more information, visit http://www.heritagebuilders.com.