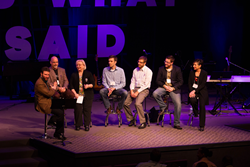 Love seeks the good of its object," said Grabill. "Love is good will in action. If love is applied in the economy, it leads to productivity and flourishing, because people want more of what's good to have.
CINCINNATI, Ohio (PRWEB) March 24, 2015
Work doesn't just create jobs and wealth, it creates civilization and culture, said theologian Stephen Grabill at the 13th annual At Work on Purpose Marketplace Mobilization event March 14.
Which is why it's important to bring your faith to work with you—it rubs off on the people around you, Grabill told 500 working Christians at Christ's Church in Mason, Ohio.
Grabill belongs to the faith-at- work movement, which is based on the argument that since we spend the majority of our lives at work, we should spend that time loving our coworkers and spiritually supporting and empowering them at work.
"Love seeks the good of its object," said Grabill. "Love is good will in action. If love is applied in the economy, it leads to productivity and flourishing, because people want more of what's good to have."
He encouraged the Christian audience to expand their fundamental orientation to want to do good in the world and urged them to engage in pastoral care; express compassion toward others; and expand youth ministries to encourage the young to decide on a positive course of action for their lives.
Grabill is author of the best-selling equipping video series, "For the Life of the World," and programs director at the Acton Institute in Grand Rapids, Mich.,
AWOP is the nation's largest, citywide marketplace ministry with 7,500 members. Volunteers and donations support faith-at-work programs, events and ministries.
The event was focused on AWOP's mission to equip and mobilize the 350,000 working Christians in the greater Cincinnati area to become a workplace ekklesia, a small group that positively permeates and influences a larger community.
The Roman government used to send a small remnant of Romans into a conquered area to mingle and mix with people until everyone around them walked and talked like a Roman, said AWOP founder and president Chuck Proudfit. This remnant was known as an ekklesia.
Proudfit said Jesus incorporated this Roman strategy brilliantly, because he encouraged 120 disciples in an upper room in Jerusalem to go out into the world and spread the gospel.
Within 250 years, that small remnant of Christians had grown to half the adult population in the Roman Empire.
"Every Christian was focused less on going to a church than on being the church for others," he said. Being the church meant living out the gospel-- loving others and ministering to their needs.
Proudfit said there are two million people living in greater Cincinnati, one million of whom work or are looking for work. About 350,000 identify themselves as working Christians, yet only 10,000 describe themselves as being faith-active at work.
"That's only about one percent," said Proudfit. "The good news is that we can have a positive impact on others as a remnant."
Today, Proudfit said 65 percent of the Greatest Generation attend church compared to 35 percent of Baby Boomers, 15 percent of Gen Xers and four percent of Millennials.
He identified four ways that 21st century Christians can express the spirit of the first-century church: through church attendance; involvement in para-church, or church-related organizations and ministries; engagement in small, faith-based groups; and activity in the Christian ekklesia, which includes home churches and home schooling.
Educational breakout sessions were held on the following topics:
JumpStart Purpose, with Steve Eklund of Community First Properties; Mission2Monday, with Lynne Ruhl of SkillSource; Good News, with Dan Busken of Busken Bakery; Return on Involvement with John McCarthy of AGI Management; Difficult Conversations about Race, with Danise DiStasi of DiStasi Advisors, Inc.; and Workplace Prayer, with Jake Crawford of Cincinnati House of Prayer.
AWOP helps working Christians connect their faith and work lives, transforming their jobs into platforms for ministry.
AWOP was founded in 2003, and has established groups in Dayton, Ohio and Dallas. It is now serving other cities across the nation and world as part of the broader marketplace ministry movement.
An AWOP app created by Great Catch Marketing lists the organization's programming, workshops and events. For more information about AWOP and its events, go to http://www.atworkonpurpose.org.
Contact:
Laura Jackson
Phone: (513) 477-2652
About At Work on Purpose:
At Work on Purpose is the nation's largest, city-wide, marketplace ministry. Based in Cincinnati, the nonprofit organization helps working Christians mobilize the work world for Christ by offering inspiring and proactive ways to help them integrate faith into their work, transforming their jobs into platforms for ministry.