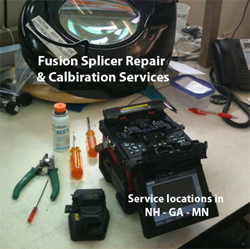 Nashua, NH (PRWEB) March 24, 2015
With two new fusion splicer calibration, repair and cleaning service locations in Georgia and Minneapolis, in addition to their New Hampshire headquarters - FORC is expanding its reach within the fiber optic industry. These additional repair centers will offer a broad range of expertise on the most popular fusion splicer equipment, saving clients time, money and the inconvenience of sending fiber optic equipment to multiple OEMs.
Increasing the number of locations with on staff technicians that can diagnose, repair and clean most brands of fusion splicers and fiber optic cleavers gives FORC the advantage of being a full service fiber optic sales & service facility. Low cost technical diagnosis and estimation of repairs, detailed documentation on work completed, as well as pre & post sales technical support separates FORC from other distributors of fusion splicers in the fiber optic industry. Most distributors of new splicers depend on the manufacturer to handle repairs and calibrations. FiberOptic Resale not only has more economical price points, but we manage all services in house, saving valuable time for technicians in the field. There is no down time for longer repairs as we offer loaner equipment on a case by case basis.
FORC services the most popular brands of fusion splicers and cleavers, including Fujikura, Fitel, Sumitomo, Ericsson, and INNO Instrument. With any calibration or repair, a set of fusion splicer electrodes will be offered to clients referencing this press release.
FORC is an authorized INNO Instrument repair and service center.
About FiberOptic Resale Corporation
FiberOptic Resale Corp (FORC) is a dedicated value added stocking distributor and service center servicing the fiber optic industry. We bring high-quality, cost-efficient products to the CATV, Contractor, Enterprise, and Telecommunications marketplace. These products are centered on the Outside Plant (OSP), Central Office (CO), and head end areas of our customers' environments.
With a wide variety of services including in-house technicians, we repair, clean & calibrate fusion splicers, OTDRs, cleavers and more. FORC is the largest INNO Instrument authorized fusion splicer service center. Our clients benefit from our "In the field" philosophy with on-site demos and training sessions to help technicians keep up to date on the latest products. To request a product demo, please call 877-287-7535.