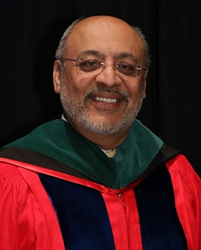 New York, NY (PRWEB) March 19, 2015
The American College of Cardiology awarded Jagat Narula, MD, PhD, of Icahn School of Medicine at Mount Sinai its Distinguished Scientist Award on March 16 at the American College of Cardiology 64th Annual Scientific Sessions in San Diego.
The Distinguished Scientist Award was awarded to Dr. Narula for his scientific contributions to translational medicine in cardiovascular disease.
As a leading researcher in cardiovascular medicine, Dr. Narula is recognized for his contributions to the prevention of heart attacks and heart failure using novel imaging techniques. Pioneering work from Dr. Narula has included the description of heart muscle cell suicide and the detection of atherosclerotic plaques that are likely to cause heart attacks.
"This award is one of my most treasured honors of my career," said Dr. Narula. "I am grateful to the American College of Cardiology for this prestigious recognition of my scientific pursuits to advance cardiac patient care, research, and medical education."
"I am very proud of Dr. Narula, his significant contributions to the field, and his strong commitment to improving cardiovascular medicine at Mount Sinai and around the globe," said Valentin Fuster, MD, PhD, Director of Mount Sinai Heart and Physician-in-Chief of The Mount Sinai Hospital who serves as the Editor-in-Chief of the Journal of the American College of Cardiology (JACC).
Previously, the American College of Cardiology has named Dr. Narula a Master of the American College of Cardiology (MACC) in 2013, and as one of the "Innovators of CV Medicine" in 2012. He was also awarded the Gifted Educator Award in 2012.
"Dr. Narula has always been a leader in science and education," said Kim Allan Williams, MD, Sr., FACC, FAHA, FASNC, the President of the American College of Cardiology. "His insights into molecular imaging and his contributions as founding editor of JACC CV Imaging are unparalleled. But more importantly, he is a kind and noble gentleman."
"My colleagues and I from the American College of Cardiology take great pleasure in honoring Dr. Jagat Narula with our 2015 ACC Distinguished Scientist Award," said John Gordon Harold, MD, MACC, Immediate Past President of the American College of Cardiology. "Dr. Narula is a master teacher who has made major contributions to the science of atherosclerosis and cardiac imaging. He has mentored generations of cardiovascular trainees and continues to be a mentor and role model. We congratulate Dr. Narula for his distinguished career and innumerable contributions to cardiovascular medicine."
Dr. Narula serves as Chief of Cardiology at Mount Sinai St. Luke's and Mount Sinai Roosevelt and is Director of Cardiovascular Imaging for the Mount Sinai Health System, Professor of Medicine (Cardiology) and Radiology, and Associate Dean for Global Affairs at Icahn School of Medicine at Mount Sinai.
Dr. Narula's research combines molecular pathology and imaging with clinical imaging of failing heart muscle cells and high-risk atherosclerotic plaques to develop strategies for prevention of cardiovascular disease in both developed and developing countries. He is also involved in population-based heart attack prevention programs, including the Heart Attack Prevention Program for You (HAPPY).
With more than 1,000 research publications or presentations to his credit and more than 30 books or journal supplements edited, Dr. Narula serves as the Editor-in-Chief of the Journal of American College of Cardiology-CV Imaging and Global Heart, the journal of the World Heart Federation.
After completing his cardiology fellowship training and PhD in Cardiovascular Immunology from the All India Institute of Medical Sciences in Delhi, India, Dr. Narula began work at Massachusetts General Hospital and Harvard Medical School in 1989. There, he completed cardiology, heart failure and transplantation, and nuclear cardiology fellowships, and joined the cardiology faculty. In 1997, he moved to the Hahnemann University School of Medicine, Philadelphia, before relocating to the University of California (Irvine) School of Medicine in 2003. At the UC Irvine, he served as the Chief of the Division of Cardiology, Associate Dean for Research, and Director of the Cardiovascular Center of the UC Irvine's Douglas Hospital, before joining Mount Sinai in April 2011.
About the Mount Sinai Health System
The Mount Sinai Health System is an integrated health system committed to providing distinguished care, conducting transformative research, and advancing biomedical education. Structured around seven hospital campuses and a single medical school, the Health System has an extensive ambulatory network and a range of inpatient and outpatient services—from community‐based facilities to tertiary and quaternary care.
The System includes approximately 6,600 primary and specialty care physicians, 12‐minority‐owned free‐standing ambulatory surgery centers, over 45 ambulatory practices throughout the five boroughs of New York City, Westchester, and Long Island, as well as 31 affiliated community health centers. Physicians are affiliated with the Icahn School of Medicine at Mount Sinai, which is ranked among the top 20 medical schools both in National Institutes of Health funding and by U.S. News & World Report.
For more information, visit mountsinai.org, or find Mount Sinai on Facebook, Twitter, YouTube and Instagram.