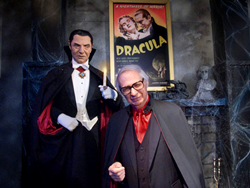 Amazing Kreskin's Supernatural Dating Site Is Up And Running. Could Be A Huge Success Say Industry Watchers.
Middle Island, NY (PRWEB) March 24, 2015
It's called AmazingKreskinSupernaturalDatingSociety.com and according to industry watchers, it is a site sure to win instantaneous popularity.
"There's a need out there and my intention is to meet it." According to Kreskin, "There are hundreds of thousands of believers in a wide range of paranormal possibilities and are hesitant to discuss their feelings with others in fear of being considered 'strange'. As a result, they have a lesser opportunity for both social contacts and normal dating experiences. I want that to end. Yet, we also welcome everyone"– non-believers as well.
Kreskin continued, "My goal is to create a social network of followers of anything and everything supernatural. There will be no limitations in what members' interests might be. I don't care if it be alien contacts or in Sasquatch. If it is paranormal this will be the gathering place for singles to connect with other singles with similar beliefs.
He went on to state that he almost envies singles meeting through the site. Said Kreskin, "The very basis of their common interests will be the ultimate ice breaker for any first time date. In fact, these could be social experiences that could linger till the wee hours."
The exact name of the new dating society is Amazing Kreskin's Supernatural Dating Society
http://www.AmazingKreskinSupernaturalDating.com. Those interested are invited to become free temporary members for six weeks.
During that time they are welcome to unlimited visits and decide on a specific level of ongoing membership and half off introductory rates. He added, that all the technological needs for the new site are in place and an excellent promotional team has been engaged to make its presence known in the marketplace.