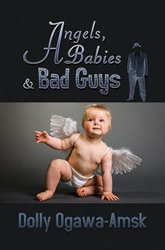 "This fascinating novel will get readers thinking hard about beliefs they normally would just take for granted.." - Robert Fletcher, CEO of Strategic Book Publishing and Rights Agency
(PRWEB) March 24, 2015
What if men could become pregnant? And how about a priest? See what happens when the satirical fantasy "Angels, Babies & Bad Guys" puts Father Rossi in a position he never dreamed possible.
Rossi is the pastor of a small parish in an old section of Los Angeles who finds himself with one whopping medical problem. He's pregnant! The priest's condition tests both his faith and his outlook on free will. His church tells him one thing and his conscience tells him another. While wrestling with the realities before him, God sends Rossi the Angel in charge of Free Will and Alternative Solutions.
Meanwhile, the Bishop and Rossi's uncle decide that something must be done about his condition. Father Rossi comes to believe that no one has the right to make decisions about someone else's body and that religious rules don't fit everyone. He wrestles with his dilemma and begins to question other teachings of the church. Should gay couples be able to marry? Is abortion all right in some cases? Rossi also questions his future as a priest. This thoughtful satire debates some of the most pressing issues of the day.
"This fascinating novel will get readers thinking about beliefs they normally would just take for granted. We are thrilled to announce its release," said Robert Fletcher, CEO of Strategic Book Publishing and Rights Agency.
About the Author: Born in Detroit, Dolly Ogawa-Amsk has lived most of her life in Los Angeles, and currently resides in the San Francisco Bay area. Now retired, she has been a newspaper editor and publisher. "I was motivated by the politics that enable one faith group in this country to work so darn hard to get rid of benefits for women."
ANGELS, BABIES & BAD GUYS (Kindle ISBN: 978-1-63135-943-9, ePub ISBN: 978-1-63135-944-6) is available for $9.99 at
http://epubco.com/shop/products/angels-babies-bad-guys-by-dolly-ogawa-amsk/, Amazon or BarnesandNoble.com and in multi-formats for other e-Readers through numerous vendors online.
The soft cover version (ISBN: 978-1-63135-536-3, $15.95) can also be ordered through the publisher's website: http://sbprabooks.com/dollyogawaamsk/ or at Amazon or BarnesandNoble.com.
WHOLESALERS: This book is distributed by Ingram Books and other wholesale distributors. Contact your representative with the ISBN for purchase. Wholesale purchase for retailers, universities, libraries, and other organizations is also available through the publisher; please email bookorder(at)sbpra(dot)net.