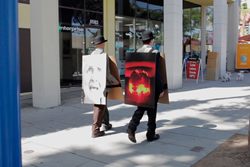 Each walker will capture the attention of most passersby for just a blink, enough to interrupt daily life and shift the viewer's awareness of their world.
West Hollywood, CA (PRWEB) March 20, 2015
Los Angeles-based artist Richard Kraft's unique time-based performance piece "100 Walkers, West Hollywood" will purposefully stride through the City of West Hollywood on Saturday, April 18, 2015, beginning at 2:30 p.m. Each volunteer walker will wear a suit and bowler hat, and a sandwich board with thought-provoking visual and verbal lexica. The walkers will follow a predetermined route through the City, returning to their point of origin at 5:30 p.m.
The project will launch from West Hollywood Library, located at 625 N. San Vicente Boulevard; walkers will meet at the El Tovar parking lot, beneath Shepard Fairey's "Peace Elephant" mural. At 2 p.m., poetry scholar and art critic Marjorie Perloff, the walk's honorary "starter," will release each of the 100 walkers by calling out a singular phrase to each one. The walkers will then move throughout the City sparking conversation and inspiration. The walkers will not speak, but will have "calling cards" to pass out to curious observers.
Images and text on the walkers' sandwich boards have been specifically tailored to be in conversation with West Hollywood's history and communities. The boards will not feature advertising but, instead, will be detailed with aphorisms, portraits, animals, painted hand gestures, imagery from children's books, and photographs of war and resistance, and dissidents and activists.
Collectively, the walkers form an unusual army of incongruities and juxtapositions which inject humor, commentary, distortion, as well as glimpses of parallel moments in space and time. Individually, each walker will capture the attention of most passersby (particularly those who are driving) for just a blink, enough to interrupt daily life and shift the viewer's awareness of their world.
Artist Richard Kraft was born and raised in London, but now lives in Los Angeles. He says "100 Walkers, West Hollywood" was influenced by non-conformist Stanley Green, a "human billboard" who walked Oxford Street in London for 25 years. It also draws from the tradition of performance art by revolutionaries including Joseph Beuys, Daniel Buren, and other Fluxus "anti-art" creators who brought art out of galleries and onto the streets.
West Hollywood has a strong culture of walking. The City has been voted The Most Walkable City in California by Walk Score, which promotes walkable neighborhoods across the country. West Hollywood's walkability is ranked higher than San Francisco, Los Angeles, and San Diego.
100 Walkers, West Hollywood (#100walkersweho) is presented with the support of the City of West Hollywood through its Arts and Cultural Affairs Commission. It is part of WeHo@30, a series of arts and culture projects for West Hollywood's 30th Anniversary of Cityhood, and is part of the Art on the Outside program that brings art into the public realm and celebrates the City's pedestrian-friendly culture.
For additional information about 100 Walkers, West Hollywood please visit http://www.weho.org/arts or call (323) 848-6377. For people who are deaf or hard of hearing, please call TTY (323) 848-6496.