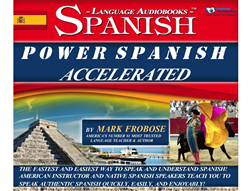 Our new YouTube channel LanguageAudiobooks.com has hundreds of free language videos in all languages.
Champaign, IL (PRWEB) March 30, 2015
According to a just-released YouTube video, if someone can spell what they're wearing on their feet, then they can speak Spanish.
SOCKS spelled out in English is Spanish for "That really is it," explains Mark Frobose, bestselling author of Power Spanish Accelerated.
The bestselling foreign language author and program creator says that language learning should never be complicated.
"Learning a language is as easy as ABC," he says.
To illustrate his point, Mark teaches Spanish with the alphabet in his numerous programs.
"SOS means 'That's it'; KS means 'What is it'; and 'KSSO' means 'What is that," he explains.
The video can be viewed by going to YouTube.com and subscribing to LanguageAudiobooks.com's channel.
"Our new YouTube channel LanguageAudiobooks.com has hundreds of free instructional language videos in all languages," invites Mark Frobose.
Mark's cutting-edge language programs can be purchased at a significant discount by going to Audible.com and typing discount code FROBOSE into the searchbox.
Bestselling programs like Power Spanish, Power French, Power Italian, Power Mandarin, Power French Verbs, Power Italian Verbs, Power Spanish Verbs, Bite-Sized German, Bite-Sized Russian and other cutting-edge audio language programs may be purchased from either Audible.com or from the company's website located at http://www.languageaudiobooks.com.
All Language Audiobooks digital programs are instantly downloadable to a smartphone and allow the user to learn languages everywhere.