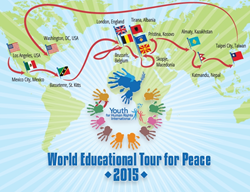 Human rights must be made a fact, not an idealistic dream.
(PRWEB) March 20, 2015
In keeping with the motto of United Nations International Human Rights Day 2015, "Human Rights 365," the Church of Scientology is proud to support Youth for Human Rights International (YHRI) in its work to make every day a Human Rights Day for youth around the globe.
This year's World Educational Tour began with a Latin American human rights summit in Mexico City February 28 and March 1. The Mexico chapter of Youth for Human Rights hosted youth delegates from throughout Mexico and Central and South America.
From there, the Tour will continue to circle the globe, visiting St. Kitts and Nevis, the United Kingdom, Belgium, France, Albania, Macedonia, Kazakhstan, Taiwan—where another regional summit will be held—and Nepal. This finale of this year's Tour will be held at the National Affairs Office of the Church of Scientology in Washington, D.C.
In each country visited, the World Tour provides training and workshops for YRH members and meets with government officials, NGOs and educators to forge partnerships and introduce them to the YRHI human rights educational materials and curriculum.
Youth for Human Rights International (YHRI) is a non-profit corporation founded in 2001 in Los Angeles. The purpose of YHRI is to teach youth about human rights, specifically the United Nations Universal Declaration of Human Rights and inspire them to become advocates for tolerance and peace.
Scientologists on five continents engage in collaborative efforts with government agencies and nongovernmental organizations to bring about broad-scale awareness and implementation of the 1948 United Nations Universal Declaration of Human Rights, the world's premier human rights document.
The Church of Scientology has published a brochure, Scientology: How We Help—United for Human Rights, Making Human Rights a Global Reality, to meet requests for more information about the human rights education and awareness initiative the Church supports. To learn more, visit http://www.Scientology.org/humanrights.
Scientology Founder L. Ron Hubbard wrote, "Human rights must be made a fact, not an idealistic dream," and the Scientology religion is based on the principles of human rights. The Code of a Scientologist calls on all members of the religion to dedicate themselves "to support true humanitarian endeavors in the fields of human rights."