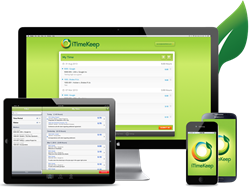 Working with the management team at Alston & Bird has been a pleasure. Their team truly understands the value of better timekeeping practices.
Pittsburgh, PA (PRWEB) March 24, 2015
Bellefield Systems, LLC, the leader in mobile time entry for firms of all sizes, announced today that Alston & Bird, LLP, an AmLaw 50 firm has chosen iTimeKeep as its firm-wide mobile time entry solution.
Alston & Bird, an international law firm with over 800 attorneys practicing in 9 offices around the country, is committed to a culture with client service and teamwork as the cornerstones of all they do. The firm has developed, assembled and nurtured the strongest array of legal talent and expertise necessary to meet all of their clients' needs in the ever-changing legal environment. The firm's unique culture and core values define who they are and how they interact with clients and each other.
Alston & Bird was looking for a mobile time entry solution that would allow their attorneys to capture more time that might have otherwise gotten lost, by enabling attorneys to enter time contemporaneously. The simplicity of iTimeKeep, along with the Time Entry as a Service Model made iTimeKeep the perfect solution for the firm.
"Our attorneys are on the go and they practice from everywhere, and we wanted to provide them with an efficient way of entering time on their mobile devices so that they could minimize leakage and be contemporaneous," stated Rodney Miller, Business Solutions Manager at Alston & Bird. "We were very impressed with Bellefield's simple implementation process and roll-out, as well as the seamless integration with our billing system. After evaluating different options, iTimeKeep was the product best suited to work for our firm," continued Miller.
"Working with the management team at Alston & Bird has been a pleasure. Their team truly understands the value of better timekeeping practices and what a successful delivery of such mobile time entry solution means for the firm. Adding Alston & Bird to the iTimeKeep family underscores our commitment to providing law firms with the best mobile and desktop time entry solutions available in legal," added John Kuntz, Co- Founder of Bellefield Systems.
After launching in 2012, iTimeKeep quickly became the most-widely used mobile time entry solution for attorneys. Today, Bellefield continues to relentlessly be committed to maintaining iTimeKeep's simplicity – allowing attorneys to work the way they want to work, any time, anywhere and any way. Law firms are able to accomplish this through the Time Entry as a Service (TEaaS) model.
The TEaaS model, pioneered by Bellefield, is constructed to be laser focused on the things that matter to the modern law firm: encouraging contemporaneous time entry and making it as simple as possible for everyone involved. The TEaaS model allows firms and their users to be up and running in a few hours without taxing the resources of the law firm with costly hardware and software and complex implementations. Bellefield's TEaaS model is transforming the way the modern law firm works.
About Bellefield
Bellefield is committed to helping lawyers improve their work lives by developing innovative and intuitive applications that solve real-world challenges. Bellefield does this by identifying a problem, evaluating it from many different perspectives, and working tirelessly to create the best possible solution. Bellefield's flagship product iTimeKeep ranks #1 as the most adopted Mobile Time Entry Solution for attorneys for the second consecutive year. Founded by software veterans Gabriela Isturiz, Daniel Garcia, and John Kuntz, Bellefield is an independent, privately held company headquartered in Pittsburgh, Pennsylvania. To learn more, visit Bellefield Systems.
About iTimeKeep
iTimeKeep is a game-changing mobile application that simplifies contemporaneous time entry while eliminating the burdens of complicated and invasive time capture applications. Upon hearing the frustrations of attorneys required to use technology that is counterintuitive to the way they work, Bellefield developed iTimeKeep to give them the ability to easily get the job done anytime and everywhere, increasing adoption and improving internal operations. iTimeKeep is delivered as a Time Entry As a Service (TEaaS) model in order to maximize the benefits of mobility to firms, without taxing on their resources. iTimeKeep was recently ranked #1 by ILTA as the most adopted Mobile Time Entry Solution for attorneys for the second year in a row. iTimeKeep seamlessly integrates with leading financial systems including Elite, Aderant, LexisNexis Juris, ProLaw, Rippe & Kingston, and many others. To learn more, visit iTimeKeep.