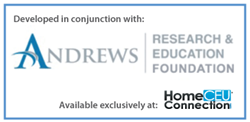 This content will generate new techniques, technology and methodologies to immediately implement in direct patient care and improve the lives of people of all ages. - Dr. James Andrews
Plano, TX (PRWEB) March 26, 2015
Reinforcing their commitment to providing high-quality online continuing education courses at affordable prices, premiere provider HomeCEUConnection.com announced a new partnership with the Andrews Research and Education Institute. The two prominent companies have joined forces to distribute elite online ceus via HomeCEUConnection.com and it's affiliates.
Now Athletic Trainers, Physical Therapy professionals, Occupational Therapy professionals and other allied health professionals can acquire their CEUs by taking courses taught by the nation's most prominent orthopaedic and sports medicine physician and his team with the new Andrews Research and Education Sports Medicine Series.
Initially presented as live sessions at the prestigious Andrews Research and Education Institute in Gulf Breeze, Florida, these new video based continuing education sessions provide hours of the highest quality athletic training content as presented by James Andrews, M.D. and associates. Dr. Andrews, author of "Any Given Monday" and founder of the Andrews Institute, is the team physician for Alabama Crimson Tide football, Auburn Tigers football and the Washington Redskins, and has treated some of the nation's most famous professional athletes including Adrian Peterson, Jack Nicklaus, Drew Brees, Robert Griffin III, Michael Jordan and more.
"We are so excited to offer new CEU courses from the Andrews Research and Education Institute" says DeAndrea Laub, Director of Operations for HomeCEUConnection.com. "While our current catalog offers over 650 hours of accredited elite CEU courses for health professionals and athletic trainers, the Andrews Research and Education content is a great addition to our growing library. And all of this new content is just as convenient as the rest of our catalog; allied health professionals can work on their required online CEUs right in the comfort of their own home on any device."
World renowned Orthopaedic and Sports Medicine physician, Dr. James Andrews, states, "We are pleased to partner with HomeCEUConnection.com to provide elite educational content for rehabilitation and athletic professionals. This content will generate new techniques, technology and methodologies to immediately implement in direct patient care and improve the lives of people of all ages."
Rehabilitation professionals and athletic trainers can now purchase the new Andrews Research and Education Sports Medicine Series in the HomeCEUConnection.com continuing education course library.
About HomeCEUConnection.com
HomeCEUConnection.com is a leader in providing elite CEU online classes for Physical Therapists, Physical Therapist Assistants, Occupational Therapists, Occupational Therapist Assistants, Speech-Language Pathologists, Athletic Trainers, Massage Therapists and Certified Strength and Conditioning Specialists. To learn more, visit HomeCEUConnection.com or call 1-800-55-4CEUS.
About the Andrews Research and Education Institute
We provide doctors, residents and fellows hands-on training in the latest surgical techniques. Advanced technology and full connectivity throughout AREI impact how doctors learn about and successfully treat injuries and disorders. Participants can learn both by watching and following live procedures as they are broadcast into our conference rooms and laboratory.
AREI has a network of physicians that provide expertise and counsel to others across the country and internationally to help those in need receive the best medical care for their respective conditions. We offer training throughout the year to physicians, residents, interns, and visiting medical personnel located throughout the United States and abroad. In addition, AREI has passes nearly 16,000 square feet of dedicated research laboratories and education and conference facilities. AREI houses three distinct research laboratory facilities instrumented with state-of-the-art research instrumentation.
AREI has established an ACGME Accredited Sports Medicine Fellowship Program. The fellowship program is a post-residency training program that prepares Fellows to be the leaders in the field of orthopaedic sports medicine for the remainder of their careers.