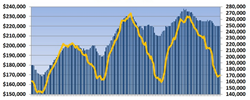 Today marks the 2nd consecutive week that mortgage rates have fallen
(PRWEB) March 20, 2015
Peoples Home Equity found Friday to be the end of a productive week for housing. Mortgage rates ended the week modestly lower. The Federal Reserve pushed its target rate hike to a later date when unemployment drops further. Lastly, weekly median home sales climbed signaling the awakening of housing activity leading into the spring and summer.
As shown on MortgageNewsDaily.com's "daily Mortgage Rates" page, the average quoted rate for a 30-year fixed rate loan declined from 3.88% on Friday March 14th to just 3.74% today. Today marks the 2nd consecutive week that mortgage rates have fallen, beginning from 3.97% at the close of March 6th.
Prospective mortgage applicants may be thrilled to know that Jumbo loan amounts of over $417,000 closed today at just 3.64% offering some excellent interest savings on a high priced home. Peoples Home Equity encourages prospective mortgage applicants to jump on this opportunity that the Federal Reserve has presented Americans. As reported by CPApracticeadvisor.com on March 19th, the Federal Reserve "says unemployment could fall as low as 5 percent to 5.2 percent before inflation pressure would probably start to build. That's down from its previous range of 5.2 percent to 5.5 percent." This means analysts are changing the time they expect unemployment to fall further and these rates to rise to match inflation. Many are now expecting September to be the first conceivable month where rates may be pressure to increase. Thus, home loan shoppers have gained some time to submit their loan application since inflation adjusted rates were expected higher in June.
Lastly, increase in temperature and the drop in rates over the past 2 weeks seems to have had a positive effect on home sales, increasing 0.7% week-over-week according to the latest "National Home Sales Snapshot" from DQnews.com. Median home sale prices however, remained unchanged. Weekly home sales, now at 170,088 are now 3.4% higher than a year ago, and median home sale prices remain $220,000, 4.8% above a year-ago.
If in need of a mortgage, contact a Peoples Home Equity loan officer today at: 262-563-4026