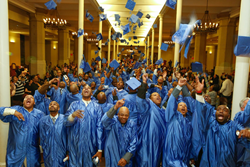 New York, NY (PRWEB) March 21, 2015
The Church of St. Ignatius Loyola hosted hundreds of men in blue caps and gowns as The Doe Fund celebrated their graduation from the organization's award-winning transitional work program, Ready, Willing & Able.
After completing the 9-12 month paid-work program, each of the graduates has secured independent housing and full-time employment in the private sector, all after long periods of homelessness or incarceration.
"Thirty years ago, when we started this work, we wanted to solve a problem," remarked George McDonald, founder and president of The Doe Fund and co-founder of Ready, Willing & Able with his wife, Harriet Karr-McDonald. "But it wasn't the homeless—or incarcerated—who were the problem. It was the way the rest of us, our city and country, saw them."
"Well," McDonald continued, to a crowd erupting in applause, "we didn't solve that problem. Men just like you did."
Alumnus of Ready, Willing & Able and current supervisor of one of the program's street cleaning crews in downtown Brooklyn, Tony Bennett, reminded the crowd of how far they had come in achieving self-sufficiency.
"You think you were the ones pushing the bucket," said Bennett, referring to the bright blue trash receptacles that all participants in the program use to clean over 170 miles of New York City streets, each day. "But that was just for awhile. For the rest of your life, that bucket is going to keep pushing you in the right direction...exactly where you need to go."
Also joining McDonald at the podium were class of 2015 valedictorian John Kopyta and the Reverend Alfonso Wyatt, who delivered rousing remarks on the temptations to return to former, disconnected lives and the strength required to continue a life of success.
The event was catered by The Doe Fund's own kitchens, where professional chefs train program participants in the culinary arts—one of six professional career tracks available in Ready, Willing & Able.
The evening concluded with a traditional diploma ceremony and cap toss. This year's graduation coincided with The Doe Fund's 30th anniversary and the launch of the organization's "Campaign for Opportunity," which will nearly double Ready, Willing & Able's capacity over the next three years.
--
About The Doe Fund
Founded in 1985 by homeless advocate George T. McDonald, The Doe Fund provides holistic services, economic opportunity, and affordable, transitional, and supportive housing aimed at permanently breaking the cycles of homelessness, incarceration, drug use, and poverty.
The organization's flagship transitional work program, Ready, Willing & Able, has served over 22,000 formerly homeless and incarcerated individuals since its inception in 1990 and has been replicated in cities across the United States.