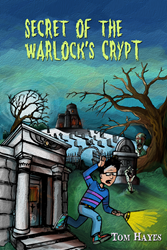 "Hayes' debut novel offers age-appropriate chills, including death masks, rotted corpses and the walking dead, as well as flashes of mildly queasy terror." – Kirkus Reviews
Cleveland Heights, Ohio (PRWEB) March 25, 2015
Award winning Cleveland Heights playwright Tom Hayes debuts YA novel, an historical thriller that takes place in Northeast Ohio.
Cryptic drawings, maps, strange symbols. This is what twelve-year-old Mike Hilliard discovers as he investigates the long-dead, ruthless millionaire Titus Morley. As these strange symbols and drawings hover in his dreams, Mike rambles through the listless Cleveland Heights summer with Billy Hayworth, a photography intern at the Western Reserve Historical Society, where Mike's uncle, Robert "Otto" Hilliard is an historian.
After his death in an 1872 refinery explosion, Titus Morley's treasure trove of rare grimoires and ancient masks disappeared. Could the drawings and maps provide clues? Mike and Billy are determined to find out.
But after rambling through a nearby cemetery at midnight, Mike's confidence is shaken, Billy is not the same, and a soul-stirring horror has been awakened.
"Hayes' debut novel offers age-appropriate chills, including death masks, rotted corpses and the walking dead, as well as flashes of mildly queasy terror." – Kirkus Reviews
Secret of the Warlock's Crypt is written for middle grade readers (10-15 years of age) but adult readers are strongly encouraged to join in the fun!
Hayes, who dedicates his book to John Bellairs, became fascinated with gothic mystery novels after reading many of the award-winning author's books while growing up. Now a librarian in Northeast Ohio, Hayes has adapted his love for research, history, and writing fictional stories to create a potentially sinister history for Cleveland and its surroundings.
Hayes' play Lord of the Burgeoning Lumber was voted Cleveland's Best New Play by a Local Playwright in 2008.