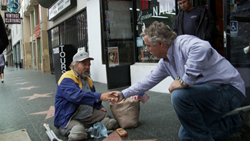 "Our goal is to make the 'invisible people' in society more visible, by bringing them out of the shadows where they are ignored," said Horvath. "Everyone on the streets has their own story."
Syracuse, New York (PRWEB) March 23, 2015
To raise awareness of the omnipresent plight of millions of people in the US currently without homes, jobs or much reason for hope, American Public Television and WORLD Channel are airing social media activist and homelessness advocate Mark Horvath's poignant documentary "@home" on 70 PBS stations in more than 35 states this Wednesday, Thursday and Saturday.
Directed by Susanne Suffredin and produced by Kindling Group, this feature-length documentary film tells the story of modern homelessness in the US, and one man's fierce commitment to end it, by following Horvath on an 11,000-mile cross-country road trip into tent cities and storm drains, under bridges and by-the-week motels. Armed with a hand-held video camera, laptop computer and smartphone, Horvath captured the personal, heartfelt struggles and raw emotions of adults, youths and families facing the daily challenges of being homeless – an effort that translates seamlessly from camera lens to the big screen.
"Our goal is to make the 'invisible people' in society more visible, by bringing them out of the shadows where they are ignored," said Horvath. "Everyone on the streets has their own story. Some made bad decisions, while others were victims, but none of them deserve to be where they are today. It's a sad reflection of our society that we just leave them there."
Horvath is no stranger to homelessness. After a successful career in the entertainment industry, his battle with drug addiction left him homeless. He rebuilt his life, only to experience job layoffs and a home foreclosure due to the economic recession that left him close to homelessness a second time. This misfortune inspired him to set out in 2008 to film the stories of America's homeless and share them via his website, InvisiblePeople.tv, and YouTube channel - personal journeys and anecdotes that were the inspiration for, and foundation of, @home.
Now sober for 20 years, Horvath's first-hand experience at having "been in their shoes" has given him the compassion, concern and commitment to do what he can to raise awareness of, and ultimately eradicate, homelessness. Leveraging the power of video and the massive reach of social media, he shares the compelling, gritty and unfiltered stories of homeless people from Los Angeles to Washington, D.C. on InvisiblePeople.tv and high-traffic sites such as YouTube, Twitter and Facebook – proving to a global audience that while the homeless may often be ignored, they are far from invisible.
To view a trailer of @home, visit [http://invisiblepeople.tv/movie.
About Mark Horvath
In 2008, social media activist and homeless advocate Mark Horvath founded Invisible People, a grassroots 501(c)(3) nonprofit and revolutionary platform dedicated to increasing awareness of homelessness in the US. Horvath (@hardlynormal) is an internationally recognized ambassador for millions of "invisible" individuals and families across the country, giving them a face and a voice via his website as well as through Twitter, Facebook and other popular social media outlets.
A popular keynote speaker at global conferences, consultant to government agencies, and presenter at universities around the world, Horvath was commissioned by the Canadian government in 2011 to travel to 24 Canadian cities and help champion the Canadian Alliance to End Homelessness. YouTube gave Invisible People unprecedented exposure allowing Horvath to curate YouTube's homepage for a day. He has been profiled in numerous top-tier media outlets including the LA Times, CNN, CBS, MSNBC, MTV, Forbes, Mashable.com, NPR, Fast Company and the Ricki Lake Show, and was recognized by the Huffington Post as one of the "11 Twitter Activists You Should be Following.
# # #
EASTERN STANDARD TIME
Wednesday, March 25 7 p.m.
Thursday, March 26 12 a.m., 8 a.m. and 2 p.m.
Saturday, March 28 1 p.m.
WOUB Athens, OH
GEOR Atlanta, GA
MAIN Bangor, ME
ALAB Birmingham, AL
WGBH Boston, MA
WNED Buffalo, NY
WVIZ Cleveland, OH
WCTE Cookeville, TN
VERM Colchester, VT
WKNO Cordova, TN
NHPTV Durham, NH
WKAR East Lansing, MI
WQLN Erie, PA
WQED Pittsburgh, PA
WCFE Plattsburgh, NY
WGCU Fort Myers, FL
WUFT Gainesville, FL
WJCT Jacksonville, FL
WETP Knoxville, TN
WLJT Martin, TN
WNET New York, NY
WHRO Norfolk, VA
WPBT North Miami, FL
WUCF Orlando, FL
WSRE Pensacola, FL
WHYY Philadelphia, PA
WBRA Roanoke, VA
WXXI Rochester, NY
WGBY Springfield, MA
WCNY Syracuse, NY
WEDU Tampa, FL
WMHT Troy, NY
WPSU University Park, PA
WSKG Vestal, NY
WPBS Watertown, NY
WXEL West Palm Beach, FL
WTVS Wixom, MI
CENTRAL STANDARD TIME
Wednesday, March 25 6 p.m. and 11 p.m.
Thursday, March 26 7 a.m. and 1 p.m.
Saturday, March 28 12 p.m.
KWCM Appleton, MN
WTIU Bloomington, IN
WSIU Carbondale, IL
WMEC Chatham, IL
ARKA Conway, AR
WTTW Chicago, IL
KERA Dallas, TX
NDAK Fargo, ND
IOWA Johnston, IA
KENT Lexington, KY
NEBR Lincoln, NE
WMVS Milwaukee, WI
WYES New Orleans, LA
WTVP Peoria, IL
KLRN San Antonio, TX
KETC St. Louis, MO
WILL Urbana, IL
WVUT Vincennes, IN
MOUNTAIN STANDARD TIME
Wednesday, March 25 5 p.m. and 10 p.m.
Thursday, March 26 6 a.m. and 12 p.m.
Saturday, March 28 11 a.m.
IDAH Boise, ID
MONT Bozeman, MT
KUED Salt Lake City, UT
SDAK Vermillion, SD
PACIFIC STANDARD TIME
Wednesday, March 25 4 p.m. and 9 p.m.
Thursday, March 26 5 a.m. and 11 a.m.
Saturday, March 28 10 a.m.
KNME Albuquerque, NM
KEET Eureka, CA
KUAC Fairbanks, AK
KAET Phoenix, AZ
KSYS Medford, OR
KIXE Redding, CA
KVIE Sacramento, CA
KQED San Francisco, CA
KOCE Santa Ana, CA
KSPS Spokane, WA
KUAT Tucson, AZ