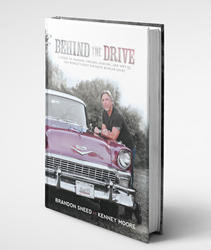 We set out, from day one, to tell the best story possible, which meant telling the most honest story possible — the more honest a story, the better it is.
Greenville, NC (PRWEB) March 23, 2015
Ten22 Publishing announced the release of a book that early reviews called "simply thrilling." It's a true story of grit and determination. "Behind the Drive: A Story of Passion, Dreams, Demons, and Hwy 55, the World's Next Favorite Burger Joint" explores lessons for business and life through the life story of Kenney Moore.
Moore grew up with nothing and built his empire from the ground up. He is the founder and president of a restaurant franchise that Franchise Business Review named its number one Food and Dining franchise for 2014. Hwy 55 Burgers, Shakes & Fries is expanding at an historic rate, having sold rights to 1,000 franchise locations around the world in just the last two years, and they were just named the single best food and dining franchise in the country by Franchise Business Review.
Their expansion came about in the middle of Moore, however, fighting to not lose everything over the past few years, as he dealt with banks, bad franchisees, and his own demons. That story is the basis for Behind the Drive, which is about Moore and Hwy 55.
"We didn't want to just tell another bland business story where the subject is some guy who learns some shallow lessons and finds success," co-author Brandon Sneed said. "We set out, from day one, to tell the best story possible, which meant telling the most honest story possible — the more honest a story, the better it is."
Bestselling authors and business leaders have raved about the book. Orlando Magic Senior VP and bestselling author Pat Williams says Behind the Drive is "Brilliant, beautifully written, simply thrilling, essential for anyone who wants more out of life" and "one of the bravest books I've read in a long time." Jim Hunter, international bestselling author of The Servant, calls Behind the Drive "A great read" and says "Kenney Moore knows the business of people is people." Kennan Burch, founder and CEO of Brand Catalyst Partners, says, "Kenney Moore is a rebel with a heart of gold — and with a story that our world needs right now." And Samir Gupte, former VP of Culture at Darden Restaurants, says, "Kenney Moore has lived an inspirational life, reflected perfectly in this book."
The book was written as a collaboration between Moored and Sneed. Sneed's writing and journalism has been recognized as some of the best in the country, including a 2014 Best American Sports Writing Notable Selection. Moore says that he chose Sneed out of many other options at his disposal because he read Sneed's first book, The Edge of Legend, about Wilson, N.C. native and Harlem Globetrotter Anthony Atkinson, and, Moore said, "I knew he wouldn't just do a cookie-cutter job and move on to the next project. I knew he would do this right — and he did."
Moore said he agreed to the project because he wanted to share his story and inspire people to believe in the American Dream again, although it may look slightly different than what they've been taught. "I remember seeing a presidential campaign commer¬cial in 1984 that said, 'It's morning again in America,' and being inspired by it," Moore said. "I believed that I could do or be whatever I wanted. And I just don't hear that anymore. I don't hear our leaders talking about, 'Go get the Amer¬ican Dream.' That's the sad part. Most of what comes out of Washington, D.C. — and from either party — is incredibly negative. The rhetoric you often hear from politicians and you get from the media now, it's almost like that American Dream is dead. And it's not. And if anyone can call B.S. on that, I can."
Sneed and Moore spent a year working on the book together, during which time Sneed interviewed Moore for hundreds of hours and interviewed 300 additional people who know Moore.
Sneed said that working with Moore was one of the best experiences of his writing career. "Kenney was one of the most honest, most open, most real people I've ever written about," Sneed added.
Behind the Drive is now available in hardback on Amazon for $19.95, and it will be in bookstores everywhere by April. Read excerpts and book the authors for speaking engagements and interviews at http://www.behindthedrive.com.