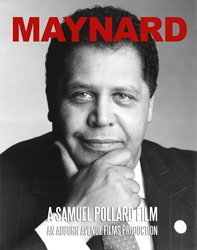 In this documentary you will definitely see the giant of a mayor but, more importantly, you will see the giant of a real man.
Atlanta, GA (PRWEB) March 26, 2015
Auburn Avenue Films produces the theatrical documentary about the life and legacy of Atlanta's first African-American Mayor, Maynard Holbrook Jackson Jr. The documentary, "MAYNARD," is currently in pre-production led by an Oscar nominated and Emmy award-winning team. "MAYNARD" offers an introspective look into the life of the political and business titan who became Atlanta's first African-American Mayor.
"My father fought the good fight for equal opportunity especially for African Americans. He believed the way to accomplish that was through the power of the vote, economic strength and educational achievement or, the ballot, the book and the buck, as he put it," said Brooke Jackson Edmond, daughter of Mayor Jackson. "All Atlantans have benefited from his work as have countless others far beyond Atlanta. There is a thriving African-American business class largely because of Maynard Jackson."
"MAYNARD" the movie will be produced by Auburn Avenue Films; one of Atlanta's newest production companies. The production team includes Executive Producers: Wendy Eley Jackson; Maynard H. Jackson, III; Elizabeth Jackson Hodges; Howie Hodges, and Brooke Jackson Edmond. Oscar-nominated producer/director/editor Samuel D. Pollard will direct the film, and Emmy and Peabody Award-winner Sheila Curran Bernard has been tapped as writer. Winsome Sinclair, C.S.A. joins the production as producer along with Donald Jarmond as co-producer. An official release date has not been announced.
Mayor Jackson was known as a charismatic and compassionate leader who served a record three terms as Atlanta's mayor. He is credited with building the world's busiest airport; leading the crusade to bring the 1996 Olympics to Atlanta; revitalizing downtown Atlanta as a thriving business and residential community; and redeveloping more than 20 of Atlanta's historic neighborhoods. Yet, in spite of his professional success there were personal challenges as well.
"Most people only remember the public side of Maynard Jackson, Jr. but they never saw the man who struggled with the loss of his own father at the age of 15, the brother who buried two sisters, the husband who went through divorce, or the father who feared he would lose his only son," said Maynard H. Jackson, III, son of Mayor Jackson. "In this documentary you will definitely see the giant of a mayor but, more importantly, you see the giant of a real man."
"MAYNARD" offers an intimate view of Jackson from those who knew him best. The film will include personal family photos and rare interviews with his two former wives, his five children, his siblings as well as many of Jackson's close associates and confidants.
"We want people to know how much he cared for all people in the city that he loved," said Elizabeth Hodges, oldest daughter of Mayor Jackson. "He wanted everyone leading successful and fulfilled lives and he worked hard for this purpose. However, we totally understand that if we want our stories to be told correctly, we need to tell them ourselves. This is why the movie about my father is so very important for the world to see," Elizabeth added.
Auburn Avenue Films Inc. is an Atlanta based television and film company specializing in development, production, and post production.
The production team includes Samuel Pollard, who is an accomplished feature film and television video editor, and a documentary producer/director whose work spans almost thirty years. He recently completed work as producer/director for a 90-minute documentary titled "The Ground On Which I Stand: August Wilson" for the PBS series, American Masters. Pollard received an Emmy and Peabody respectively for his work on Henry Hampton's Blackside production "Eyes On The Prize II: America at the Racial Crossroads" and "I'll Make Me A World: Stories of African-American Artists and Community." As an editor, some of Pollard's credits include Spike Lee's films "Mo' Better Blues," " Jungle Fever," "Girl 6," "Clockers," and "Bamboozled." Pollard along with Lee also co-produced "Spike Lee Presents Mike Tyson," for HBO which Mr. Pollard received an Emmy; "Four Little Girls," a feature-length documentary about the 1963 Birmingham church bombings which was nominated for an Academy Award; and "When The Levees Broke," a four part documentary that won numerous awards, including a Peabody and three Emmy Awards. He also co-produced and supervised the edit on Lee's "If God Is Willing And Da Creek Don't Rise." Pollard also served as producer/director of "Slavery By Another Name," a 90-minute documentary for PBS, and as editor for the feature length documentary "Venus and Serena" on Showtime.
Sheila Curran Bernard is an Emmy and Peabody Award-winning writer and filmmaker with credits on more than 50 hours of broadcast and theatrical programming. Her work includes the renowned series "Eyes on the Prize" and, more recently, the PBS special "Slavery by Another Name," which she wrote based on Douglas A. Blackmon's Pulitzer Prize-winning book. She is the author of "Documentary Storytelling," now going into its fourth edition and widely translated, and the co-author of "Archival Storytelling." Bernard has been honored with fellowships at the MacDowell Colony for the Arts and the Virginia Center for the Creative Arts; and in 2005, she served as the Anschutz Distinguished Fellow in American Studies at Princeton University. She currently serves on the faculty of the University at Albany, SUNY (State University of New York).
Winsome Sinclair is one of the most sought after casting directors on the East Coast collaborating with such directors as Steven Spielberg, Spike Lee, Oliver Stone, John Singleton and Lee Daniels. Sinclair cast principals and extras for the films "Amistad," "Malcolm X," "Waiting to Exhale," "She Hate Me," "Inside Man," "Too Fast Too Furious," "Black Snake Moan," "Cadillac Records" and "Precious." Her most recent projects include the Lifetime TV movie "Seasons of Love" produced by Academy Award nominee Taraji P. Henson, and the HBO film "Bessie" starring and produced by Queen Latifah, and directed by Dee Rees of the critically acclaimed "Pariah." Sinclair is a co-founder and serves as producer for Legacy Media Group (LMG). In 2014, Sinclair launched WSA Consultation with her partner Donald Jarmond in Atlanta. WSA Consultation provides professional support to actors and producers in film and television.
Wendy Eley Jackson is an accomplished television producer and co-owner of Golden Street Entertainment. For over 20 years, she has created content and produced broadcasts for some of the biggest names in faith-based media. A principal of Auburn Avenue Films, Eley Jackson and her team have chosen "MAYNARD" to be their first documentary produced under this company. She is also executive producer for "His First Lady," a feature film written by Towonda Kilpatrick.