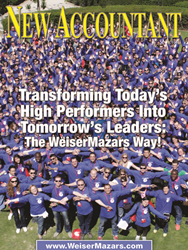 Chicago, Illinois (PRWEB) March 25, 2015
New Accountant Magazine, a trusted professional journal for college accounting students since 1985, has released its latest issue, available both in print and online.
This issue of New Accountant marks the beginning of a new series of articles from experts on the importance of taking the CPA Exam. A CPA certification carries tremendous prestige across the globe with accounting professionals encouraging students about the importance of taking the exam.
"A Higher CPA Salary Isn't the Only Benefit of Taking the CPA Exam," written by Bill Driscoll, District President of Accountemps, kicks off this series. It highlights the many reasons why taking the CPA Exam is beneficial, and encourages accounting students to take advantage of their academic resources and start working towards the exam now. "Earning your CPA certification is one of the best ways to get ahead in your accounting career," Driscoll writes. The certification allows for "greater work and advancement opportunities" and gaining "the respect of your colleagues," as well as a higher salary.
The featured cover story is "Transforming Today's High Performers Into Tomorrow's Leaders: The WeiserMazars Way!", written by Chris Roberts, Director of Human Resources, Long Island Practice. The story showcases the opportunities that WeiserMazars offers CPAs to advance their professional growth, such as an international mobility program and the WeiserMazars Leadership Academy (WLMA). As Roberts writes, "There has never been a more exciting time to join the accounting profession!"
Accounting graduates will benefit from the piece, "Life in Public Accounting: The View from the Top," which gives valuable insight into how top firms view new accountants today and what essential characteristics they look for in new hires. Also included is "Networking Tips for Accountants," a guide to forming strong professional connections and getting ahead by making the most of networking.
Featured advertisers in this issue include Bay Path University, Carlow University, Colorado State University, Fox School of Business, Kennesaw State University, and the University of South Dakota. Also featured are ThomsonReuters Bisk CPA and WeiserMazars.
About:
Published since 1985, New Accountant is a pro-CPA and pro-accounting profession print and online publication for college accounting students preparing for a career in accounting. The magazine is published 6x a year and distributed to over 700 colleges & universities. Editorial is written by college accounting professors and accounting professionals on topics of particular interest to college accounting students. New Accountant's goal is to prepare college students and recent graduates for the CPA exam and introduces the diverse career opportunities available to accounting, finance and business majors. For more information, visit http://www.NewAccountantUSA.com or call 773-866-9900 Ext. 12.