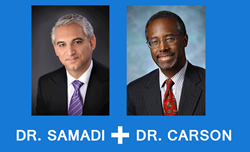 I want everybody in the conversation. The American people should listen to all of us and make the right choice. We cannot afford the wrong choice; we need the best candidate.
New York, New York (PRWEB) March 24, 2015
Chairman of Urology and Chief of Robotic Surgery at Lenox Hill Hosptal, Dr. David Samadi, interviewed Dr. Ben Carson, who is exploring a presidential campaign for 2016, on the state of healthcare, race relations in America, potential Medicare solutions, and his plan for improving healthcare if he ran for President in 2016, this past Sunday.
State of America
"We have a sick patient right now; our nation is the sick patient. To get our nation well again, we need to put the constitution on the top shelf. We need to stop picking and choosing which laws we want to enforce. The national debt is going to strangulate the future for our children and grandchildren," declared Dr. Carson.
Will Carson Run for President?
"We've announced our exploratory committee, and I feel extremely grateful for the number of people who have come out and supported us financially. We will see by the end of April, beginning of May if that financial support is enough for us to move forward."
Carson went on: "I am depending on millions of Americans for support versus finding big donors who will dictate how I move forward, so we will see," said Dr. Carson.
Dr. Samadi asked Dr. Carson his thoughts on Ted Cruz's upcoming announcement.
"I love Ted Cruz, he's a great friend. I want everybody in the conversation. The American people should listen to all of us and make the right choice. We cannot afford the wrong choice; we need the best candidate. Because if we get another so-called "progressive" in there and they get two or three Supreme Court picks, I am not optimistic about the future," said Dr. Carson.
Race Relations in America
Dr. Samadi also asked Dr. Carson about the state of race relations in America and what his vision and solution is around the culture of race.
"No question, we have been made hypersensitive. The emphasis really needs to be placed on open conversations around race, even if we disagree. If we make things taboo, then it continues to worsen. We've seen many leaders who exacerbate racial tensions and that adds to the problem," said Dr. Carson.
Carson expressed his frustration with this issue. "We concentrate on superficial factors and they distract us from solving the real problems in our society."
State of Healthcare
America spends twice as much per capita on healthcare as the next closest nation but inefficient accessibility continues.
Dr. Carson shined a light around a new perspective on Medicare. "The annual Medicaid budget is $400 billion. A quarter of our popular partakes in it, that's 80 million people. 80 million into $400 billion is $5,000 for every man, woman and child on Medicaid. What could an individual do with that $5,000? I'm not necessarily advocating we do exactly that but I'm trying to bring to the surface just how much money we waste."
Solutions to Medicare
Dr. Samadi explained the issue of Medicare in healthcare today. He explained that 65 years of age made sense when the law was in its infancy but today in 2015, people are living longer and therefore that money is being stretched further.
Dr. Samadi asked: "Should we make patients personally responsible for their healthcare? It seems your vision for healthcare starts with every citizen having a health savings account [HSA} and from there, we'll see an incentive to stay healthy, because if they get sick, they will pay more."
"We really need to take healthcare out of the political arena. This has been the biggest mistake. I think it would be wise to put the money in the hands of the patient, letting them manage the relationship with healthcare providers. 80% of encounters could easily be manageable through fund the patient controlled. Only major issues require catastrophic healthcare. If we used it only for those serious issues, the cost would decrease dramatically," Carson said.
Dr. Carson on Obamacare
Dr. Carson noted that many people do not understand his opposition towards Obamacare. He explained it doesn't have to do so much with the medicine side but the concept of democracy.
"America was supposed to be a country that is for and by the people, in which the government responded to them, and carried out the will, not dictate to them. This is completely antithetical to the way we were supposed to do things. Healthcare is the most important issue because it's all we have. There is nothing else that you could possibly possess that equals your life and your health."
The interview took place on Dr. Samadi's new radio show, am970 World Health News in New York City on March 22, 2015. Listen to the full interview on SamadiMD.com.
Follow Dr. Samadi on Facebook and Twitter.
ABOUT DR. DAVID B. SAMADI
Dr. Samadi is a board certified urologic oncologist trained in open and traditional and laparoscopic surgery and is an expert in robotic prostate surgery. He is Chairman of Urology, Chief of Robotic Surgery at Lenox Hill Hospital and Professor of Urology at Hofstra North Shore-LIJ School of Medicine. He is also part of the Fox News Medical A Team as a medical correspondent and the Chief Medical Correspondent for am970 in New York City. He has dedicated his distinguished career to the early detection, diagnosis and treatment of prostate cancer and is considered one of the most prominent surgeons in his field. Learn more at roboticoncology.com. Visit Dr. Samadi's blog at SamadiMD.com.