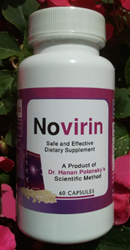 We recommend that individuals, who suspect that they have an HPV infection, talk to their doctors about Novirin. - Greg Bennett, CBCD
Rochester, NY (PRWEB) March 29, 2015
"Infected with the human papillomavirus (HPV)? The Center for the Biology of Chronic Disease (CBCD), which tested the formula of Novirin in two post-marketing clinical studies, recommends taking this natural antiviral supplement." - Greg Bennett, CBCD
Alferon N, a drug against genital warts made by Hemispherx Biopharma, Inc., is set to go back on the market in late 2015. "Interferon alfa-n3 is used to treat genital warts that occur on the outside of the body. This medication is for use only in people who are at least 18 years old." (See Drugs.com, from December 15, 2010) (2) In March 2008, Hemispherx "halted the manufacturing and marketing of Alferon N Injection® due to the high labor cost for manufacturing Alferon® and the low capacity significantly limiting the commercialization potential of Alferon N Injection®. The original process, producing the Alferon® in hundreds of small flasks, was extremely labor intensive." (1) However, since the company's manufacturing facilities were upgraded, Hemispherx will have "the capacity to supply both the US and South American market." (1)
The CBCD is pleased that an effective drug against genital warts will soon be able to help those who suffer from them. However, the Center recommends that individuals infected with the HPV virus also talk to their doctors about Novirin, an all natural HPV remedy, that is designed to help the immune system target the latent form of the virus.
"We feel that in addition to Alferon N, which is used to specifically treat the resulting symptoms of a low-risk HPV infection (genital warts), people with HPV should talk to their doctor about adding Novirin to their anti-HPV regimen. This is due to the fact that two separate post-marketing clinical studies, which followed FDA guidelines, found that this natural antiviral product reduced HPV symptoms." - Greg Bennett
Click to learn more about Novirin and HPV.
The formula of Novirin was tested by Hanan Polansky and Edan Itzkovitz from the CBCD in two clinical studies that followed FDA guidelines. The studies showed that the Novirin formula is effective against the HPV and other viruses. The clinical studies were published in the peer reviewed, medical journal Pharmacology & Pharmacy. The first study was published in a special edition on Advances in Antiviral Drugs. Study authors wrote that, "individuals infected with the HPV…reported a safe decrease in their symptoms following treatment with (the formula of Novirin)." (2) The study authors also wrote that "we observed a statistically significant decrease in the severity, duration, and frequency of symptoms." (2)
Novirin can be ordered online on the Novirin website here: http://www.novirin.com.
Novirin is a natural antiviral dietary supplement. Its formula contains five natural ingredients: Selenium, Camellia Sinesis Extract, Quercetin, Cinnamomum Extract, and Licorice Extract. The first ingredient is a trace element, and the other four are plant extracts. Each ingredient and its dose were chosen through a scientific approach. Scientists at polyDNA, the company that invented and patented the formula, scanned thousands of scientific and medical papers published in various medical and scientific journals, and identified the safest and most effective natural ingredients against latent viruses.
To date, Novirin is the only natural antiviral product on the market with published clinical studies that support its claims.
"Alferon® N is the only natural source, multi-species alpha interferon currently approved for sale in the U.S. Alferon® N is approved in the U.S. only for the treatment of refractory or recurring external genital warts caused by human papilloma virus in patients 18 years of age, or older." (Virtual-Strategy.com, from March 20th 2015) (3) Additionally, it should be noted that "Interferon alfa-n3 is usually given after other medications have been tried without successful treatment of genital warts." (See Drugs.com, Last updated December 15, 2010) (4)
The CBCD points out that "there are no drugs approved against the HPV." (2) In other words, there are no oral drugs that target the HPV virus. There are none that specifically target the latent HPV either. "Current treatments include procedures, such as cryotherapy, conization, and the Loop Electrosurgical Excision Procedure (LEEP). These procedures use liquid nitrogen, a surgical knife (scalpel), a carbon dioxide (CO2) laser, or electrical current to remove the abnormal growths caused by the HPV. These growths include cells that harbor the active virus. The procedures do not target cells with the latent virus. Since they do not remove the latent virus, these procedures only produce a temporary remission." (2)
In contrast, Novirin was designed to target the latent HPV.
"We recommend that individuals, who suspect that they have an HPV infection, talk to their doctors about Novirin. The formula of this natural antiviral product was shown in two-separate post-marketing clinical studies to reduce HPV associated symptoms." – Greg Bennett, CBCD
Anyone interested in viewing published studies on the formula of Novirin can go here:
http://www.scirp.org/journal/PaperInformation.aspx?PaperID=36101#.U-s9ouOSz90
and
http://www.scirp.org/journal/PaperInformation.aspx?PaperID=44234#.U-s9w-OSz90
Click to learn more about Novirin and HPV.
All orders of Novirin are completely confidential, and no information is shared or sold to any third party. Privacy is assured.
References:
(1) Hemispherx Biopharma, Inc. - emispherx Biopharma Announces the Completion of the Newly Upgraded Alferon® Facility: Commercial Production of Alferon® is in the Final Stage Integrating Continuous Flow Manufacturing Technology. Monday, March 02, 2015.
http://www.hemispherx.net/content/investor/default.asp?goto=818
(2) , H. Itzkovitz, E. Gene-Eden-VIR Is Antiviral: Results of a Post Marketing Clinical Study. Published in September 2013.
http://www.scirp.org/journal/PaperInformation.aspx?PaperID=36101#.U-s9ouOSz90
(3) Virtual-Strategy.com - Hemispherx Biopharma Announces Financial Results for the Year Ended December 31, 2014. March 20th 2015
http://www.virtual-strategy.com/2015/03/20/hemispherx-biopharma-announces-financial-results-year-ended-december-31-2014#axzz3VBou33qp
(4) Drugs.com - Alferon N. Last updated December 15, 2010.
http://www.drugs.com/mtm/alferon-n.html